Podcast: Play in new window | Download


Listen To Cesar by Clicking on the Red Arrow Above or Visit iTunes or Stitcher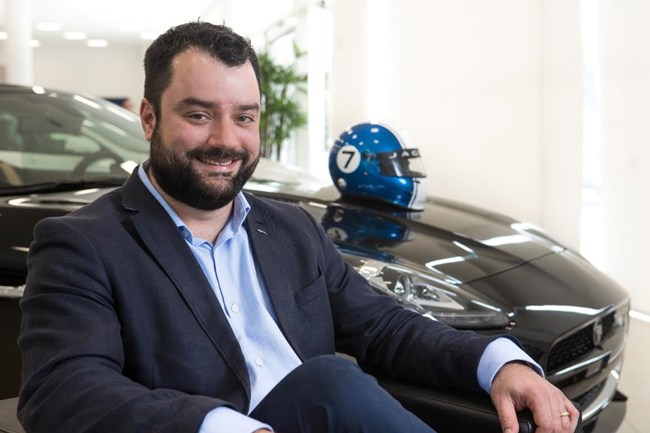 César Pieri who was born in Brazil is heavily influences by his Italian family heritage and culture. While his career has contributed to being able to live around the globe his heart belongs to Lucca (Tuscany). He takes a multicultural approach to his passion and career in the automotive profession and lifestyle. He has been a professional automotive designer for over 13 years and currently spends a majority of his time in England as the Creative Design Manager at Jaguar's Advanced Design Studio. Additionally César enjoys drawing and painting. One of his unique approaches to painting is to use the actual hoods of automobiles as a canvas that then become wall hangings in homes, garages, and galleries.
SHOW SPONSORS  
NOCO Genius Boost Jump Starter
SUCCESS PEOPLE
Ayrton Senna because of his passion and drive.
CAREER CHALLENGE
"I think I've failed so many times that I really started enjoying that."
AH-HA MOMENTS
Taking inspiration from the early D-Type Jaguar while working on the new F-Type and creating the Jaguar Project 7.
FIRST SPECIAL CAR 
A 1969 Green VW Beetle that was originally his mother's car.
BEST AUTOMOTIVE ADVICE
"You can try anything you want, you can go as far as you can, but please, first do what I've asked of you. And then you can go further." – Gert Hildebrand German car designer
"Come on surprise me."  – Ian Collin
GREAT AUTOMOTIVE RESOURCE 
Try and filter out the massive amount of information you receive and create your own ideas.
FAVORITE BOOK
Fare L'Automobilia – Aldo Agnelli Mario Favilla
PARTING ADVICE 
Never give up on your dreams. Keep going for them and trying hard.
HOW TO FIND CESAR
Design Pieri – www.designpieri.com
Facebook – www.facebook.com/cesar.pieri
HELPING CARS YEAH GROW
You can help promote Cars Yeah interviews. Please go to iTunes and post a comment.
Every little bit helps and we will greatly appreciate your support.