Podcast: Play in new window | Download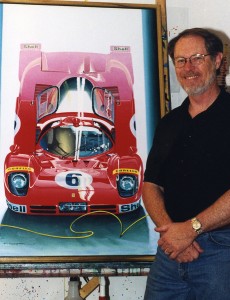 Charles Joseph Maher began his automotive journey at the wheel of his family cars, a 1955 Chevy Bel-Aire followed by a Chrysler 300. He attended the University of Notre Dame and received a bachelor's degree in Fine Art in 1968. Charlie has been an independent artist since 1988, after working as a designer for the Ford Motor Company. After his time with Ford, he worked 14 years with a graphics firm in Detroit designing production car graphics for Ford, GM, Honda, Toyota as well as projects such as pace car graphics for Indianapolis and the Long Beach Grand Prix. His work has been displayed at numerous concours events including Pebble Beach and Amelia Island and on the pages of many automotive magazines including AutoWeek, Automobile, Car Collector, Mustang Monthly, Racer, Road & Track, Automobile Quarterly, and Sports Car Market. Charlie is a member of the Automotive Fine Art Society.
SPONSORS
Want to sponsor the Cars Yeah podcast? Contact us today.
"Don't leave your light under a bushel basket." – Listen to learn what this means to Charlie's success.
After receiving the honor of painting the official poster for the Pebble Beach Concours d'Elegance something challenging happen two years after he completed the painting…
AH-HA MOMENTS
After meeting the publisher of AutoWeek magazine at an art show he was asked to work on a project with the magazine.
FIRST SPECIAL AUTOMOBILE
1965 Corvette
BEST AUTOMOTIVE ADVICE 
Shiny side up. Rubber side down.
FAVORITE BOOK
Sunday Driver – Brock Yates
PARTING ADVICE 
Consider collecting art as a way to enhance your life.
HOW TO FIND CHARLES
You can find Charlie at www.doctor-design.com/maherautoart/
HELPING CARS YEAH GROW
You can help promote Cars Yeah interviews. Please go to iTunes and post a comment. Every little bit helps and we will greatly appreciate your support.