Podcast: Play in new window | Download


Listen To Charles by Clicking on the Red Arrow Above or Visit iTunes or Stitcher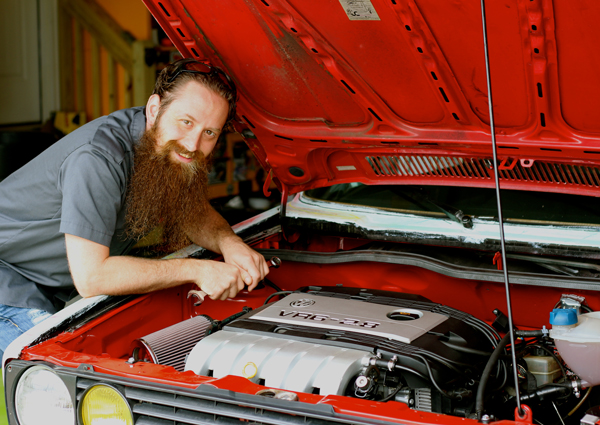 Charles Sanville is a Master Certified Volkswagen Technician who spends his days turning wrenches on modern Volkswagens. He has created The Humble Mechanic website that is geared toward helping to build relationships between technicians and their customers. In his videos, Charles takes viewers behind the scenes at a dealership service department and takes an in-depth look at how common parts fail, as well as current happenings and trends in the Volkswagen world. Show topics range from understanding vehicle warranties, buying tools, advice for both new and seasoned technicians, and tips for customers to help them have a great service experience.
SHOW SPONSOR  
NOCO Genius Boost Jump Starter
CarpeGear.com The Little Red Racing Car
Charles share a story about a transmission that got the better of him and what he learned from the experience.
AH-HA MOMENTS
As a young mechanic Charles quickly discovered he was being asked questions by much older and seasoned mechanics which gave him confidence that he was in the right field.
FIRST SPECIAL CAR
A Jeep Wrangler
BEST AUTOMOTIVE ADVICE
Don't be scared. Just dive right in. You'll figure your way out.
AUTOMOTIVE RESOURCE
Humble Mechanic – www.humblemechanic.com
FAVORITE BOOK 
Zen and the Art of Motorcycle Maintenance – Robert M. Pirsig
PARTING ADVICE 
Always be true to yourself and don't let other people's behavior impact yours.
HOW TO FIND CHARLES
Humble Mechanic – www.humblemechanic.com
Facebook – www.facebook.com/HumbleMechanic
HELPING CARS YEAH GROW
You can help promote Cars Yeah interviews. Please go to iTunes and post a comment.
Every little bit helps and we will greatly appreciate your support.