Podcast: Play in new window | Download

Listen To Chris by Clicking on the Red Arrow Above or Visit iTunes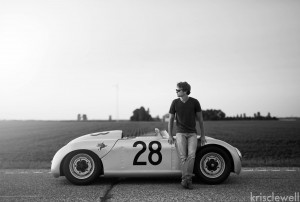 Runge Cars North America. began in a rural Minnesota barn, the very place where Chris, 25 years prior, sat in his first Porsche while it was being stored for the winter. That Porsche left an impression that he would never forget. A lifelong passion for the automobile and more specifically post WWII German design grew as Chris owned and modified several Porsche vehicles over the years. In 2011 he embarked upon a new journey, to hand hammer his own aluminum bodied car. The goal was not to build a replica but capture an era through a simple yet beautiful design. In the process Chris applied Traditional European Coachwork techniques to build the Prototype "Frankfurt Flyer" Sports Racer. FF001 has gained attention and admiration in the motoring world. Today, Chris is preparing to introduce a series of coach built auto designs based on different eras and country of origin. Chris can also provide panel replacement, repair or reskin an entire body for your vintage sports car. Chris can also design and build from scratch, your very own custom coach built automobile.
SPONSORS
Want to sponsor the Cars Yeah podcast? Contact us today.
SUCCESS QUOTES

"You can't drive a house but you can always live in a sports car."
"He who works with his hands is a laborer. He who works with his hands and his head is a craftsman. He who works with his hands, his head, and his heart is an artist."
CAREER CHALLENGE

The first car Chris built was his way of dealing with the many challenges he has faced in life. It was his "out" to bring forth his life experiences that then became a passionate career. Little did he know this would happen.
AH-HA MOMENT
Chris had no intention of sharing his first custom built car with the world. Listen to find out what happened when his friends convinced him to share what he was doing and how it created an amazing ah-ha moment.
FIRST SPECIAL AUTOMOBILE
A Porsche 912
BEST AUTOMOTIVE ADVICE
"Pick your customers." – Jack Lewis of Jack Lewis Enterprises in Atlanta
FAVORITE RESOURCES
Facebook – www.facebook.com/flyermotorwerks
Rod Emory at Emory Motorsports – www.emorymotorsports.com
Mark Nugent – www.marknugent.com.au
Roach Manufacturing – www.roachmanufacturing.com
FAVORITE BOOK
Porsche by Mailander – Karl Ludvigsen
PARTING ADVICE
Stay true to your dreams.
HOW TO FIND CHRIS
You will find Chris at https://rungecars.com/
Facebook – https://www.facebook.com/rungecars/
YouTube – https://www.youtube.com/rungecars
HELPING CARS YEAH GROW
You can help promote Cars Yeah interviews. Please go to iTunes and post a comment. Every little bit helps and we will greatly appreciate your support.