Podcast: Play in new window | Download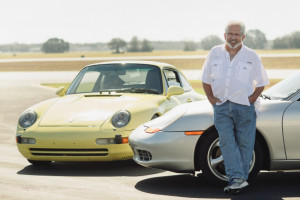 Chuck Bennett is the CEO of Zymol, a unique and premium car care company that he started over 30 years ago. The unique formulas are rooted in nature and science and the first batch of Zymol was cooked up in a coffee urn in Chuck's kitchen. The brand is known world wide among automotive enthusiasts and he's been creating high quality car care for the most discerning collectors to the avid enthusiast who wants his or her vehicle to look their best while being protected from the elements. Originally based in Connecticut, he moved the company to Brooksville Florida where he grows his own carnauba and other plants that they use in Zymol products that are pure, powerful, and perfect!
SHOW SPONSOR
NOCO Genius Boost Jump Start  – Here.
"Pure, powerful, and perfect!" – The Zymol Mantra
During the development phase of creating the first Zymol car care products Chuck hit a wall when the product didn't perform at a level he expected. It was a complete failure. Listen to find out how a chance meeting with a bioscientist lead to a powerful discover that lead to an ah-ha moment.
AH-HA MOMENT
After a chance meeting with a talented scientist lead to the missing link in his first car care formula, Chuck realized the importance of surrounding himself with talented people who could help him fulfill his dreams.
FIRST SPECIAL CAR
A 1978 Topaz BMW 530
BEST AUTOMOTIVE ADVICE
Do everything.
FAVORITE RESOURCE
The best resource you can have is your significant other.
FAVORITE BOOK
The Fantastic Inventions of Nikola Tesla – Nikola Tesla
PARTING ADVICE 
Quality isn't cheap. Think about quality in everything you purchase, you create, in the way you communicate with others.
HOW TO FIND CHUCK
ZYMOL –  www.zymol.com
Facebook – www.facebook.com/zymollifestyle
Facebook Zymol Music – www.facebook.com/groups/zymolmusic
HELPING CARS YEAH GROW
You can help promote Cars Yeah interviews. Please go to iTunes and post a comment. Every little bit helps and we will greatly appreciate your support.