Podcast: Play in new window | Download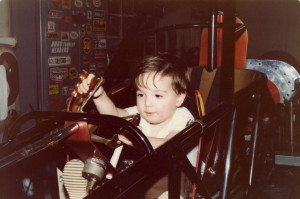 Craig Morrison is the Operations Manager at Morrison Enterprises. Craig grew up with a father, Art, who's life has evolved around cars since the 70s. His father sent him off to find his way in the world and after some time in the South Pacific and other adventures he returned to the family business ready to be much more than "Art's son." Morrison Enterprises designs and builds chassis, custom chassis and all sorts of components for custom cars, street rods, and more. Craig works along side father Art and a talented team building dreams for automotive enthusiasts around the world.
SHOW SPONSOR
NOCO Genius Boost Jump Start  – Here.
"The best way out is through." – Robert Frost
"Dream big and dare to fail." – Norman D. Vaughan
Being the son of the founder, Craig is always focused on self improvement and pushing himself to overcome any stigma of being the "owner's son" and contributing value to the success of the business in his own ways.
AH-HA MOMENTS
After a month on the road attending shows Craig returned with an idea for a new chassis that became a huge success. Then another innovative suspension part was created by their engineers that exceeded all expectations for sales.
FIRST SPECIAL CAR
A 1940 Ford Coupe
BEST AUTOMOTIVE ADVICE
You drive the car. Don't let the car drive you.
GREAT RESOURCES
TriFive – www.trifive.com
ChevyTalk – www.chevytalk.org
Pro Touring – www.pro-touring.com
Lateral G – www.lateral-g.net
Beyers Custom & Restoration – www.byerscustom.com
McFarland Customer Upholstery – www.mcfarlandupholstery.net
BOOK SUGGESTIONS
Cannonball: America's Greatest Outlaw Road Race – Brock Yates
Command and Control – Eric Schlosser
PARTING ADVICE
Be passionate about what you do. And surround yourself with fantastic people.
HOW TO FIND CRAIG
Art Morrison Enterprises –  www.artmorrison.com
HELPING CARS YEAH GROW
You can help promote Cars Yeah interviews. Please go to iTunes and post a comment. Every little bit helps and we will greatly appreciate your support.