Podcast: Play in new window | Download


Listen To Danny by Clicking on the Red Arrow Above or Visit iTunes or Stitcher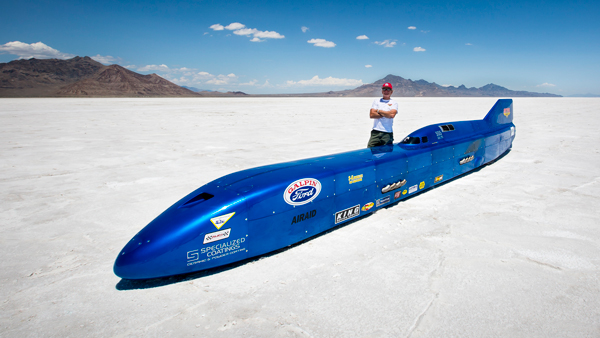 Danny Thompson comes from a family whose name is synonymous with speed. His father, Micky Thompson, is the famed driver and innovator of the Challenger, a man who broke land speed records on the Bonneville Salt Flats. Step by step, Danny Thompson has maintained and expanded his family's celebrated history in motor sports. Danny raced motocross winning his first 18 races. He then moved on to racing cars in the Formula Atlantic Series, Supervees, and CRA Sprint Cars. He won the opening night of the Mickey Thompson Off-Road Grand Prix and drove for Chevrolet as a factory driver. He's served as the President of the Mickey Thompson Entertainment Group and later as a consultant to entertainment, promotional, and safety firms.
SHOW SPONSOR  
NOCO Genius Boost Jump Starter
Building and  preparing to run the Challenger II at the Bonneville Salt Flats.
AH-HA MOMENT
The first time after 40+ years when the Challenger II was placed on the ground and the two engines were fired up. Things got very real. Especially when it went over 419 mile per hour!
FIRST SPECIAL CAR
The first off road racer Danny built, a Funco Gill George car
BEST AUTOMOTIVE ADVICE
Be passionate.
AUTOMOTIVE RESOURCE
Danny Thompson Land Speed Record – www.static1.squarespace.com
FAVORITE BOOKS  
Micky Thompson The Fast Life – Erik Arneson
Mickey Thompson: The Fast Life and Tragic Death of a Racing Legend – Griffith Borgeson
PARTING ADVICE 
Savor every time you get
HOW TO FIND DANNY
Thompson Land Speed Racing – www.thompsonlsr.com
HELPING CARS YEAH GROW
You can help promote Cars Yeah interviews. Please go to iTunes and post a comment. Every little bit helps and we will greatly appreciate your support.