Podcast: Play in new window | Download

Listen To David by Clicking on the Red Arrow Above or Visit iTunes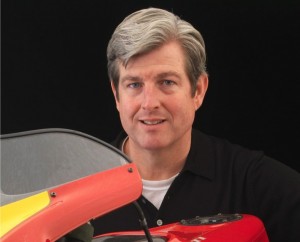 David Bull Publishing was founded in 1995 with the goal of producing the highest quality motorsports books—well written, beautifully designed, and produced to the highest standards.The company's first book, Sebring: The Official History of America's Great Sports Car Race, was named Book of the Year by the American Auto Writing and Broadcasters Association. Every year since then our books have consistently won awards and received excellent reviews.
David's dedication to quality has earned him opportunities to work with some of the best and most exciting racers, sanctioning bodies, and manufacturers. Among these legendary racers are Mario Andretti, Vic Elford, and Junior Johnson, and now 2006 MotoGP Champion Nicky Hayden. We have published the official histories of the Daytona 24 Hours, the Daytona 500, the Baja 1000, and Sebring. We have also produced incisive, behind-the-scenes books with Ducati, Ferrari, Honda, Porsche, and Suzuki.
No matter what the subject, every one of David's books reflects the enthusiasm and award-winning effort that our authors, editors, and designers put into each project that result in the highest quality motorsports books in the world.
SPONSORS
Want to sponsor the Cars Yeah podcast? Contact us today.
SUCCESS QUOTE

"You can learn as much from a bad example as a good one."  -David's friend Dan
PERSONAL CHALLENGE

David was hit by a truck while riding his motorcycle home from the Moto GP races at Laguna Seca. After spending 9 months in the hospital and injuries too numerous to discuss David was left a paraplegic. Listen to his strength and courage about how he overcame this monumental challenge and continues today is incredibly inspirational.
ENTREPRENEURIAL AH-HA MOMENT X2

David worked for a successful automotive publisher and saw many opportunities to expand their business yet they chose not to take his advice. So David left and started David Bull Publishing.
SELLER'S REMORSE

A Ducati 888. He missed it so much that he bought back!
CURRENT BUSINESS

David Bull Publishing. Publisher of the finest automotive motor books available.
FAVORITE THING ABOUT CARS
David loves the history of cars, the designers, drivers, and stories behind them.
FAVORITE RESOURCE

The New York Times and Motorsport Industry Association
PARTING ADVICE
What is most important in life are the people in your life, family and friends.
HOW TO FIND DAVID BULL
You can find David at David Bull Publishing and Facebook. Or by telephone at 800-831-1758