Podcast: Play in new window | Download


Listen To David by Clicking on the Red Arrow Above or Visit iTunes or Stitcher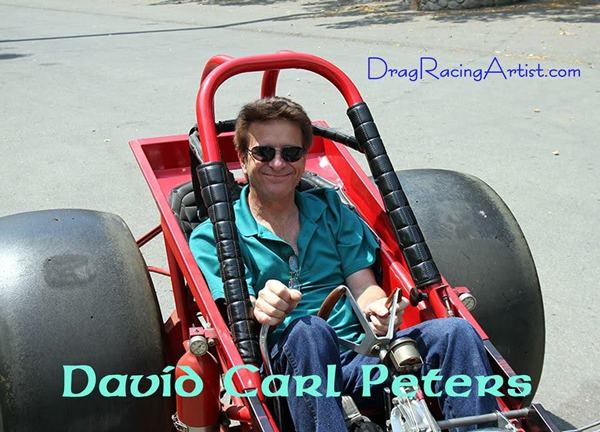 David Carl Peters of Design Tech Graphics has been graphically designing cars for the biggest names in drag racing. Since starting his business in 1988 his graphic paint schemes have adorned over 1,200 cars and earned more than 100 "Best Appearing Car" awards. His client list is the who's-who on the drag strip. Additionally David is a fine-art airbrush artist creating hundreds of limited-edition prints. His art and design in the drag racing world is now being compiled for publishing and these days he's turned his eye towards the world of aviation art.
SHOW SPONSORS  
CarpeGear.com The Little Red Racing Car
NOCO Genius Boost Jump Starter
SUCCESS QUOTES
"Don't look behind you they may be gaining."
"Take whatever technique you have and push it and push it until it develops in to its own style." – Robert Henri
CAREER CHALLENGE
After designing the paint scheme on Blain Johnsons top fuel car Blain was killed in a racing accident. His death greatly impacted David's ability to continue his work.
AH-HA MOMENTS
Winning his first "Best Appearing Car" award and realizing he had a career opportunity to do what he was passionate about.
FIRST SPECIAL CAR 
The 1967 Sunbeam
BEST AUTOMOTIVE ADVICE
When you're driving in the snow and you start to slide, turn away from the skid.
 GREAT AUTOMOTIVE RESOURCES 
We Did It for Love – www.wediditforlove.com
FAVORITE BOOK
 Breaking the Habit of Being Yourself – Dr. Joe Dispenza
PARTING ADVICE 
Follow your passion and move forward.
HOW TO FIND DAVID
Drag Racing Artist – www.dragracingartist.com
David Carl Peters Art – www.dragracingartist.com
Design Tech Graphics –www.dragracingartist.com
HELPING CARS YEAH GROW
You can help promote Cars Yeah interviews. Please go to iTunes and post a comment.
Every little bit helps and we will greatly appreciate your support.