Podcast: Play in new window | Download

Listen To David by Clicking on the Red Arrow Above or Visit iTunes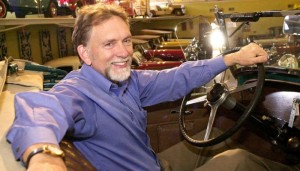 David Madeira is not your typical sit-behind-the-desk CEO.  He has served as President and CEO of LeMay-America's Car Museum since 2002.  David has been on some amazing adventures having ridden his motorcycle across 25 countries from Spain to Nepal.  His career as a fundraiser in the educational field is long and impressive. After learning that the owners of the world's largest car collection were trying to create a museum around their automobile treasures, David jumped in to action and spent years helping develop what has become a spectacular car museum located in Tacoma Washington. It is a legacy to the late Harold LeMay who with his wife Nancy, collected their incredible collection. The museum opened in 2012 with David at the helm leading a dedicated team who cares for the collection. That is when he's not riding his motorcycles through Brazil or Peru!
SPONSORS
Want to sponsor the Cars Yeah podcast? Contact us today.
SUCCESS QUOTE 

"Life is either a great adventure or nothing at all." -Helen Keller
"Get up to bat." – Rod Albert
PERSONAL CHALLENGE IN BUSINESS

David reached a point during the development of the LeMay Museum where things looked impossible. Listen and learn how an enormous challenge was overcome and the museum was built.
AUTOMOTIVE CAREER AH-HA MOMENT 

Listen and learn how a complete shift in the LeMay Museum's concept allowed the project to move forward.
FIRST MOTORCYCLE

A 1969 Honda CL350
CURRENT BUSINESS

David is President and CEO at the Lemay-America's Car Museum in Tacoma Washington.
BEST AUTOMOTIVE/MOTORCYCLE ADVICE
Keep your eyes up!
FAVORITE RESOURCE

Along with Cars Yeah, David loves L.L. Bean
FAVORITE BOOK

Modern Times – Paul Johnson
IF DAVID COULD HAVE ONLY ONE COLLECTOR CAR
He already has it – his 1983 Porsche Cabriolet.
PARTING ADVICE
Don't let life go by. Get in it and go for it. Get up to bat.
HOW TO FIND DAVID AND THE LEMAY MUSEUM
You can find David at Lemay-America's Car Museum