Podcast: Play in new window | Download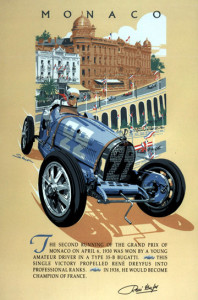 Dennis Simon began his career as a fashion illustrator after graduating from the Maryland Institute, College of Art in 1969. He later worked as an art director in an ad agency and then as a full-time freelancer. In 1986 and 1987 Denis designed the exhibit system for the Collier Automotive Museum in Naples, Florida, providing an ideal opportunity for him to combine his skills in exhibit design with his longstanding interest in vintage automobiles. His interest in cars has been life long. His work has appeared in numerous magazines, books, and on many event posters. Through his imagery and design, his goal has been to bring back the missing elements of style, romance, and panache that so characterized an earlier part of this automotive age.
SHOW SPONSOR
NOCO Genius Boost Jump Start  – Here.
"Follow your bliss." – Joseph Campbell
Learning how not to worry about where the next assignment is coming from. This is a key in being a freelance artist and learning to relax.
AH-HA MOMENTS
After attending a vintage car race Dennis got the idea to create some sample posters for automotive events and from there his career in automotive illustration and design took off.
FIRST SPECIAL CAR
A 1961 MGA
BEST AUTOMOTIVE ADVICE
You can fix it.
FUN RESOURCES
Le Cyclecariste Belge – www.lecyclecaristebelge.com
Yaht-Club des Avions De La Toute – www.yacht-clubdesavionsdelaroute.tumblr.com
Beach's Motorcycle Adventures – www.bmca.com
BOOK SUGGESTION
Jenks: A Passion for Motorsports – Sir Stirling Moss
PARTING ADVICE
Forget about those auction prices and drive your car.
HOW TO FIND DENNIS
Century of Speed –  www.centuryofspeed.com/Dennis_Simon
Facebook – www.facebook.com/dennis.simon.509
The Plaid Morgan – www.PlaidMorgan.html
HELPING CARS YEAH GROW
You can help promote Cars Yeah interviews. Please go to iTunes and post a comment. Every little bit helps and we will greatly appreciate your support.