Podcast: Play in new window | Download

Listen to Dominic by Clicking on the Red Arrow Above or Visit iTunes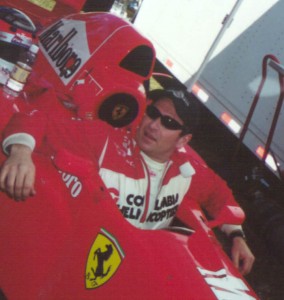 Dominic made 65 starts in Indycars between 1984-1994, including seven consecutive starts in the Indianapolis 500.  He was CART Rookie of the Year in 1986 and was the Fastest Rookie in Indianapolis history in 1988. He drove numerous IMSA and other sports car races including the 24 Hours of Le Mans,  the 24 hours of Daytona and the 12 hours of Sebring in a Porsche 962. He also raced two years for Dodge in the North American Touring Car Championship, winning numerous races and finishing a close 2nd in the championship in 1996. He was an instructor at the Bob Bondurant Driving School at Sears Point Raceway and started Zephyr Racing in the mid 80's.  After retiring from racing in 1998, Dominic presided over a multi-million dollar collection of historic automobiles at the Cavallino Collection and founded Motion Research Corporation. Currently Dominic is the National Corporate Relations Director for LeMay-America's Car Museum in Tacoma, Washington.
SPONSORS
Want to sponsor the Cars Yeah podcast? Contact us today.
SUCCESS QUOTE 

"In racing, the speed in which you go is dependent upon how heavy your wallet is so just lay it on the gas pedal and see how fast you can go." – Unknown
PERSONAL CHALLENGE 

After going to Indy to qualify for the Indianapolis 500 Dominic made the cut only to be bumped during the last 10 minutes of qualifying.  In debt, dejected, and very frustrated he was almost ready to quit racing however he rallied and went back the next year and became the fastest Rookie to qualify for the Indianapolis 500.
ENTREPRENEURIAL AH-HA MOMENT 

After becoming the fastest rookie to qualify at the Indy 500 Dominic was approached by the Texaco team.  They wanted a drive for their Indy Car and their Porsche 962 for racing in the IMSA series.  Now he was actually getting paid good money to be a race car driver.
FIRST CAR

1958 Hillman. Listen to how Dominic actually made the car fly on his 16th birthday. A high and a low all mixed in to one day.
CURRENT BUSINESS 

Dominic is the Corporate Relations Director for LeMay-America's Car Museum in Tacoma, Washington. He also runs Dobson Motorsport
FAVORITE WINNING RACE
Winning a Camel Lights race at Mid-Ohio racing with Charles Morgan.
BEST AUTOMOTIVE/RACING ADVICE
Don't look back!
FAVORITE RESOURCES

Dominic enjoys buying and brokering old cars from his Dobson Motorsport website.
IF DOMINIC COULD HAVE ONLY ONE COLLECTOR CAR
1957 Ferrari 315 S winner of the 1957 Mille Miglia.  Only one was built and Dominic has driven that car.
FAVORITE BOOK
The Art of Racing in the Rain – Garth Stein
PARTING ADVICE
If you want to go racing put your foot down and don't look back!
HOW TO FIND DOMINIC DOBSON
You can find Dominic at LeMay-America's Car Museum or Dobson Motorsport
HELPING CARS YEAH GET A BUMP START
You can help promote Cars Yeah interviews. Please go to iTunes and post a comment. Every little bit helps and we will greatly appreciate your support.