Podcast: Play in new window | Download

Listen To Don by Clicking on the Red Arrow Above or Visit iTunes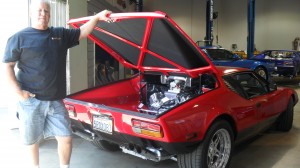 Don Byars is the owner of Full Throttle Panteras in Lake Elsinore California.  He started working on Panteras in his dad's driveway way back in 1983.  In 1998 when he founded Precision Pro-Formance in Brea, California they provided full service and parts.  In 2010 he moved to Lake Elsinore and Full Throttle Panteras was born.  Over the past 30 years Don has rebuilt and restored hundreds of DeTomaso Panteras – earning a reputation for his unwavering attention to detail and his full-throttle commitment to Pantera perfection.  Don's absolute and unequaled knowledge of the DeTomaso Pantera has won his clients many coveted and prestigious awards including trophies at Concorso Italiano in Monterey California.
SPONSORS
Want to sponsor the Cars Yeah podcast? Contact us today.
SUCCESS QUOTE 

"Good work is never cheap and cheap work is never good."
BUSINESS CHALLENGE 

Combine frustration with the shops where Don was working. Add in a costly divorce. Mixed with a desire for change, and you have all the making of a challenge that became a new business.
AH-HA MOMENT 

When a potential customer told Don he would hire him to restore his Pantera if he ever had his own shop, that's all Don needed to hear to start his own business.
FIRST SPECIAL AUTOMOBILE
1957 Ford Ranchero
BEST AUTOMOTIVE ADVICE
Always stay true to your heart and build the nicest car you can build.
PARTING ADVICE
Have patience. Don't cut corners. Rome wasn't built in a day.
HOW TO FIND DON
Full Throttle Panteras – www.fullthrottlepanteras.com
On Facebook at – Don Byars
HELPING CARS YEAH GROW
You can help promote Cars Yeah interviews. Please go to iTunes and post a comment. Every little bit helps and we will greatly appreciate your support.