Podcast: Play in new window | Download

Listen To Ed by Clicking on the Red Arrow Above or Visit iTunes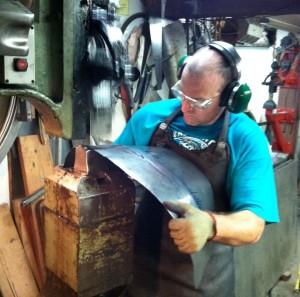 Ed Barr is an Assistant Professor of Technology at McPherson College in McPherson Kansas.  McPherson College stands alone as the only school in the United States to provide a bachelor's degree in Automotive Restoration Technology.  Ed grew up in Tyler, Texas. He received a B.A. from the University of the South in Sewanee, Tennessee, and an M.A. from the University of Kansas.  After graduate school, Ed began a career in art museum administration.  Between 1999 and 2005 he served first as the Assistant to the Director, and then as the Director of the Mulvane Art Museum at Washburn University in Topeka, Kansas.  In addition to his museum duties, he taught several art history courses and museum studies at Washburn.  With a passion for automobiles  he went on to earn a B.S. in Automotive Restoration Technology from McPherson College in 2007.  From there he worked at Vintage Restorations Ltd. in Union Bridge, Maryland, where he restored British cars.  Then in early 2010, Ed joined the McPherson College faculty.  He currently teaches sheet metal restoration and the history of automotive design.
SPONSORS
Want to sponsor the Cars Yeah podcast? Contact us today.
SUCCESS QUOTE 

"Good craftsmen are healers. They protect and care for stuff." – Fay Butler, Master Metal Fabricator
CAREER CHALLENGE 

Ed talks about the feeling of fear and being in over his head. Listen and learn how he overcame this fear and discovered a whole new direction in life. A very inspiring and valuable life lesson story.
AH-HA MOMENT 
While being taught my the master metal fabricator Fay Butler, Ed learned that everything he was being taught can be explained by science. Listen to find out how Ed has turned this ah-ha moment in to a teaching lesson for his students.
FIRST SPECIAL AUTOMOBILE
A 1959 Chevy pick up truck that his father purchased for him
BEST AUTOMOTIVE ADVICE
"When you are trying to solve a problem, you need to:  eliminate the variables, seek out the experts, but listen to the idiots, and also you want to go to the books." – Fay Butler, Master Metal Fabricator
FAVORITE RESOURCE
McPherson College Summer Workshops  – www.mcpherson.edu/autorestoration/workshops/
Fay Butler – www.faybutler.com
FAVORITE BOOK
The Limit – Michael Cannell 
PARTING ADVICE
Don't put off the enjoyment of your passion for too long.
HOW TO FIND ED
You will find Ed at www.mcpherson.edu
HELPING CARS YEAH GROW
You can help promote Cars Yeah interviews. Please go to iTunes and post a comment. Every little bit helps and we will greatly appreciate your support.