Podcast: Play in new window | Download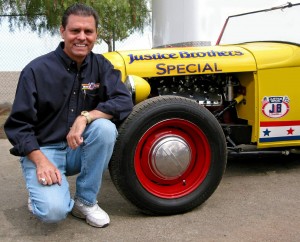 For over 25 years, Ed Justice has been the President and CEO of Justice Brothers, Inc., a legendary international manufacturer and distributor of lubricants, additives and cleaners founded by his father, Ed and Uncles Gus and Zeke. Many of us are familiar with the "glory days" of auto racing, but few have lived the experience as Ed Justice, Jr. has. At the age 44; he became one of the youngest to be inducted into the "Old Timers Club" at The Indianapolis 500 Motor Speedway.  Ed is the award winning host of the ROAD & TRACK radio show. He's been awarded the prestigious Motor Press Guild (MPG) "Dean Batchelor Best of the Year" award and the International Automotive Media Awards, including a Gold Medal. Ed has also been on numerous radio and television shows and master of ceremonies at countless events. There's simply not enough time to tell his whole story but today on Cars Yeah he'll share some of his amazing history with us.
SHOW SPONSOR
NOCO Genius Boost Jump Start  – Here.
"There's always sun above the clouds." 
"Only if you have been in the deepest valley, can you ever know how magnificent it is to be on the highest mountain." – Richard M. Nixon 
"This too shall soon pass."
Ed's faced many challenges in his life and career and learned early on that you have to put your all in to defeating and overcoming difficult times .
AH-HA MOMENTS
Listen and learn how smelling a foul odor while on a drive in a car lead to an entirely new product that became a success.
FIRST SPECIAL CAR
1972 Porsche 914
BEST AUTOMOTIVE ADVICE
Be yourself.
FAVORITE RESOURCES
A 3-D scanner. A 3-D printer. And a water jet table.
BOOK SUGGESTION
Driving With The Devil – Neil Thompson
PARTING ADVICE 
Buy a collector car.
HOW TO FIND ED 
Justice Brothers –  www.justicebrothers.com
Ed Justice Jr. – www.edjusticejr.com
EJJE Publishing – www.ejjeus.com
HELPING CARS YEAH GROW
You can help promote Cars Yeah interviews. Please go to iTunes and post a comment. Every little bit helps and we will greatly appreciate your support.