Podcast: Play in new window | Download


Listen To Emme by Clicking on the Red Arrow Above or Visit iTunes or Stitcher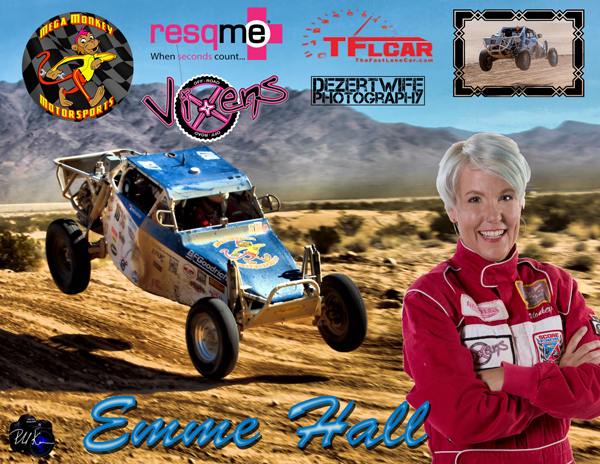 Emme is a driver, racer, reviewer, and rabble-rouser. She is the principle driver and trophy winner for the Mega Monkey Motorsports 2 seat 1600 desert racecar, where she has podium finished in class 5U, class 11, and ultra-4. She is one of fewer than 20 American women to participate in the Rallye Aicha des Gazelles, a 9-day, all female off road rally in Morocco where they use no GPS. Emme reviews cars with the guys at the Fast Lane Car, one of the top automotive channels on YouTube. She holds an MFA in Costume Technology from North Carolina School of the Arts and she is a graduate of Yale School of Drama.  She lives in Washington DC and works at a well-known regional theatre. Emme also autocrosses her Mazdaspeed Miata whenever she can.
SHOW SPONSOR  
NOCO Genius Boost Jump Starter
Emme races in the Rallye Aicha des Gazelles. It is an all-female rally in Morocco. Listen to Emme's incredible challenges during her first attempt at this amazing race.
AH-HA MOMENT
When Emme first started reviewing car she replaced another female reviewer who was very different in looks and approach. Emme learned the value of being yourself and embracing your true self. That's what makes you, you.
FIRST SPECIAL RACECAR
A 1973 VW Thing
BEST AUTOMOTIVE ADVICE
When in doubt throttle out.
AUTOMOTIVE RESOURCE
The Fast Lane Car – www.tflcar.com
FAVORITE BOOK  
How To Keep Your Volkswagen Alive: A Manual of Step-by-Step Procedures for the Complete Idiot – John Muir
PARTING ADVICE 
Just do your life. Just do your life. If it makes you happy, find a way to do it.
HOW TO FIND EMME
Mega Monkey Motorsports – www.megamonkeymotorsports.com
Indiana Joans – www.indianajoans.com
The Fast Lane Car – www.tflcar.com
Facebook – www.facebook.com/EmmeHall
Twitter – www.twitter.com/MMMotorsports
HELPING CARS YEAH GROW
You can help promote Cars Yeah interviews. Please go to iTunes and post a comment. Every little bit helps and we will greatly appreciate your support.