Podcast: Play in new window | Download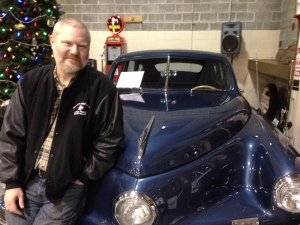 Imagine growing up with a grandfather who holds the Guiness Book of World Records for owning the most cars. Eric LeMay was that boy. He was the Director of the Harold E. LeMay Museum until 2000 which later became the LeMay, America's Car Museum. He now works as a consultant, to the LeMay Family Collection Foundation at Marymount in Tacoma Washington, a second automotive museum he has helped develop. After spending some time as a sports journalist he worked in communications for the government and then in marketing for one of the largest architectural firms in the world. Eric combined these skills to create a world-class automobile collection to honor his grandfather. This has turned in to a nearly two-decades long passion about teaching history through the automobile.
SHOW SPONSOR
NOCO Genius Boost Jump Start  – Here.
"A rock pile ceases to be a rock pile the moment a single man contemplates it bearing with him the image of a cathedral."  – The Little Prince by Antoine de Saint-Exupery 
After years of getting his grandfather's car collection to a place where a museum was going to be built, Eric realized, because of his family connection that he had to step aside and allow others to complete what he started. Listen to how he overcame this situation and ended up creating a second museum.
AH-HA MOMENTS
In the very early stages of trying to create a museum out of his grandfather's collection Eric met with a wealthy car collector and showed him what Harold had amassed. Listen to find out what a ball of string has to do with this unique ah-ha moment.
FIRST SPECIAL CAR
A 1966 Chrysler  300
BEST AUTOMOTIVE ADVICE
Never be afraid of being caught in the rain with your convertible top down.
FAVORITE BOOK
The Standard Catalog of American Cars 1805 – 1942 – John Gunnell
AUTOMOTIVE RESOURCE
The docents at museums around the world.
PARTING ADVICE 
Go out and visit your local car museums and support them.
HOW TO FIND ERIC
LeMay Family Collection – www.lemaymarymount.org
America's Cars Museum – www.lemaymuseum.org
HELPING CARS YEAH GROW
You can help promote Cars Yeah interviews. Please go to iTunes and post a comment. Every little bit helps and we will greatly appreciate your support.