Podcast: Play in new window | Download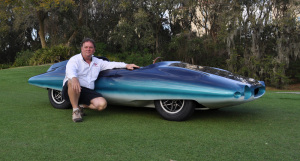 Geoff Hacker has been called "Captain Curiosity" and the author and Cars Yeah guest Tom Cotter titled him "The Snipe Hunter" in his book Corvette in the Barn. Geoff's a college professor, automotive historian, researcher, and adventurer. He's the king of automotive barn finds and he'll go anywhere to uncover and bring back to life vehicles many of us never knew existed or thought were long gone. Along with his friend of 30 plus years Rick D'Louhy they co-produce the website Forgotten Fiberglass where you can find them and the treasures they uncover. And now they are working on a book to share with the world under the same titles.
SHOW SPONSOR
NOCO Genius Boost Jump Start  – Here.
"The greatest American car story never told." 
Time and resources are several of the many challenges Geoff and Rick face with their quest for these forgotten treasures.
AH-HA MOMENTS
Geoff discovered that you can save history, save origination stories, and imbue the souls of things that are missing through research and finding the people that were there back in time.
FIRST SPECIAL CAR
1962 Tiburon Shark Roadster
BEST AUTOMOTIVE ADVICE
A good plan today is better than a perfect plan tomorrow.
AUTOMOTIVE RESOURCE
Hemmings – www.hemmings.com
Bring a Trailer – www.bringatrailer.com
Kustomrama – www.kustomrama.com
Custom Car Chronicle – www.customcarchronicle.com
The Rodder's Journal – www.roddersjournal.com
The Jalopy Journal – www.jalopyjournal.com
FAVORITE BOOK
Dan Post Set of Reprints – The Rodder's Journal
PARTING ADVICE 
The cars are out there. You go find them. Rescue them. Share the information.
HOW TO FIND GEOFF
Undiscovered Classics – www.undiscovered-classics.com
Forgotten Fiberglass – www.forgottenfiberglass.com
Forgotten Sport Customs – www.sportcustom.com
Belly Tanks – www.bellytanks.com
HELPING CARS YEAH GROW
You can help promote Cars Yeah interviews. Please go to iTunes and post a comment. Every little bit helps and we will greatly appreciate your support.