Podcast: Play in new window | Download


Listen To Glenn by Clicking on the Red Arrow Above or Visit iTunes or Stitcher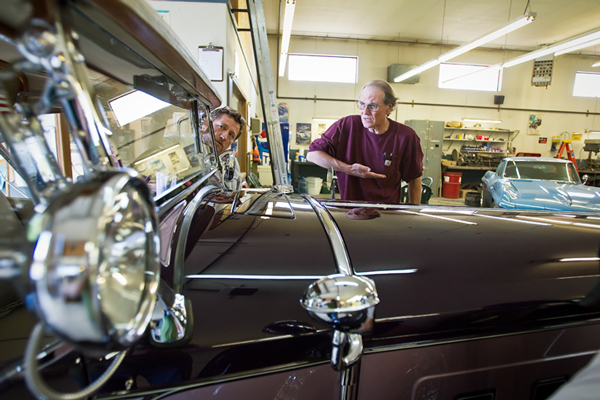 Glenn Vaugn has been in the automotive restoration business for decades. He's worked with thousands of clients on a wide variety of automobiles and much of his work has been displayed on concours lawns around the world. You'll recognize his name from the famous Hill & Vaugn restoration business and a partnership and friendship his father Ken had with Phil Hill. Yes, that Phil Hill, the F1 Champion.
SHOW SPONSOR  
NOCO Genius Boost Jump Starter
"Pay attention to the quality and the rest will follow." – Glenn's father Ken Vaughn
"Not even do you have to be ethical. You have to appear to be so." – Glenn's father Ken Vaughn
Glenn has always looked at a failure as an opportunity. Listen to a story about a 1937 Packard Super Eight Touring Sedan that provide more than it's fair share of challenges for Glenn and his team.
AH-HA MOMENT
Glenn adapted the Servant Manager style of running a business where he hires the best talent he can and he lets them do their job. Hire great people. Give them what they need. Stay out of their way.
FIRST SPECIAL CAR
A Model A Ford Glenn's grandmother gave him and of course his father's Ferrari 250 SWB Berlinetta.
BEST AUTOMOTIVE ADVICE
"Never, never, never, never give up." – Winston Churchill
BEST AUTOMOTIVE RESOURCE
His Rolodex filled with connections to people Glenn's worked with over the years.
FAVORITE BOOK 
Get the service manual for whatever automobile you have. It is invaluable. And then join the car club that is the marque of your vehicle for even more helpful advice.
PARTING ADVICE 
Don't define yourself by age. No matter how old or young. Go for it!
HOW TO FIND GLENN
Via Email – vaughnrestoration@gmail.com
Telephone – 208-773-3525
HELPING CARS YEAH GROW
You can help promote Cars Yeah interviews. Please go to iTunes and post a comment. Every little bit helps and we will greatly appreciate your support.