Podcast: Play in new window | Download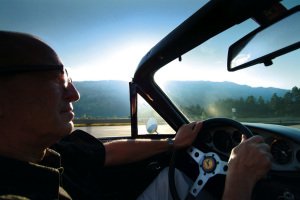 Gunther Raupp has been a professional photographer for over 30 years. He shoots campaigns for Audi, Buick, Fiat, Ford, Jaguar, Lancia, Maserati, Opel, Porsche, Toyota, Volkswagen, Volvo and others. His work has been displayed in museums around the world and hangs in private collections as well. Back in 1984 he fulfilled his dream of owning a Ferrari and photographed his Dino 246 Spider creating his own Ferrari calendar. He sent one to Enzo Ferrari and that began an unparalleled history of photographing Ferrari calendars. Today he is the only photographer to be sanctioned by Ferrari to shoot their annual calendar. It is produced in a limited number and has become a sought after prize by automotive enthusiasts around the world.
SHOW SPONSOR
NOCO Genius Boost Jump Start  – Here.
"Follow your passion and say yes, not perhaps."
Gunther found himself in a delicate situation where he had to choose to be totally honest with a client or be safe and protect another individual and his work. Listen to why he made the decision he made and what it did for his career.
AH-HA MOMENTS
After purchasing his dream car, a Ferrari Dino, Gunther took photos and designed a calendar. He sent it to Enzo Ferrari himself and that launched 31 years of being the only sanctioned designer and photographer for Ferrari's annual calendar.
FIRST SPECIAL CAR
Ford Focus RS
BEST AUTOMOTIVE ADVICE
Brake late and hard.
AUTOMOTIVE RESOURCE
David Bull Publishing – www.bullpublishing.com
FAVORITE BOOK
The Ferrari Book – Gunther Raupp
PARTING ADVICE 
It is not only the question as to what car you drive it is with whom you drive with.
HOW TO FIND GUNTHER
Ruapp – www.raupp.com
HELPING CARS YEAH GROW
You can help promote Cars Yeah interviews. Please go to iTunes and post a comment. Every little bit helps and we will greatly appreciate your support.