Podcast: Play in new window | Download

Listen To Harold by Clicking on the Red Arrow Above or Visit iTunes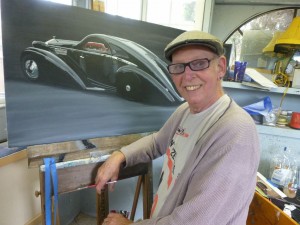 Called the "Painter Laureate of the car" Harold Cleworth's original paintings grace the homes, garages, and offices of car collectors and celebrities alike. Of English descent, Harold grew up drawing and painting the heavy machinery and industrial neighborhoods of England. Because of his impressive work he was accepted at the famous Manchester College of Art. He worked for Decca Records and his artwork graced the album covers of the Rolling Stones and The Who among others. When San Francisco car dealer Richard Rubin commissioned Howard to paint a Mercedes Gullwing his automotive art career blossomed. Commissions from manufacturers Ford, Chevrolet and others soon followed along with private collectors requesting Cleworth paintings of their prized automobiles. His ability to capture the essence and spirit of an automobile is unmatched and I know you'll find his story very inspiring.
SPONSORS
Want to reach focused automotive enthusiasts on the Cars Yeah podcast?
Contact us today.
"Do what you love." – Harold Cleworth
PERSONAL CHALLENGE IN BUSINESS
After being commissioned to paint the show poster for the Pebble Beach Concours d'Elegance Harold was faced with a huge challenge. The car was in boxes, in England and there were no images for him to review. Find out how he completed the painting.
AUTOMOTIVE CAREER AH-HA MOMENT 
When a customer asked Harold to paint his black, 1955 Mercedes Benz Gullwing Harold's automotive artwork career was born.
A  Sunbeam Alpine.
His first American car was a huge 1958 Chrysler Imperial Crown Southhampton
BEST AUTOMOTIVE ADVICE
If you were a car, which one would you be? For Harold, it would be a Morgan with 1959 Cadillac Biarritz tail fins on the back!
His eyes and his camera.
IF HAROLD COULD HAVE ONLY ONE COLLECTOR CAR
The Bugatti Atlantic
PARTING ADVICE
Do what you love.
HOW TO FIND HAROLD