Podcast: Play in new window | Download


Listen To Harrod by Clicking on the Red Arrow Above or Visit iTunes or Stitcher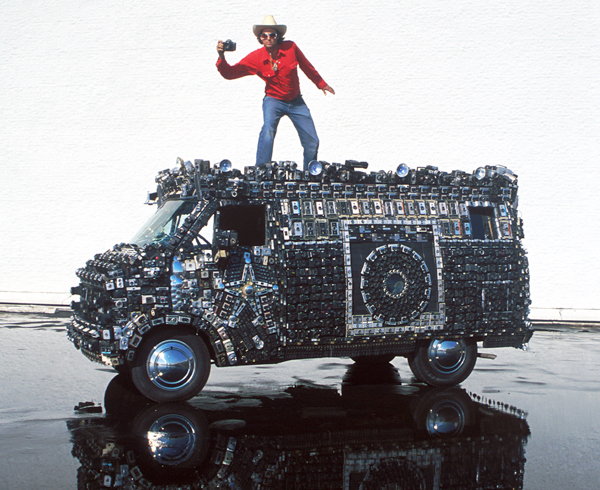 Harrod Blank is one of the key figures behind the art car movement in the US. His website Art Car Agency is a place to find the most unusual automobiles ever created. He has designed and built several of his own art cars using a hodgepodge of found objects. The Camera Van (above) is covered in 2,750 cameras of which ten function. A VW Bug based oh My God! Car that has to be seen, to be believed. Then there is Pico De Gallo, an interactive VW music mobile. Harrod has created 3 documentary films, all broadcast on TV: Wild Wheels, Driving the Dream, and Automorphosis, as well as two books featuring his photography, Wild Wheels and Art Cars.  He is currently working on a film and book project on the Burning Man arts festival, in addition to creating the Art Car World museum in Douglas, Arizona.
SHOW SPONSORS  
NOCO Genius Boost Jump Starter
CarpeGear.com The Little Red Racing Car
When you are creating an art car there are so many things that can not go the way you thought they would. Did you know that silicone doesn't stick to thousands of film canisters?
AH-HA MOMENT
The Camera Van. The idea came from a dream Harrod had after his parents kept telling him he needed to move on and do something with his life.
FIRST SPECIAL CAR
A red MGTD
BEST AUTOMOTIVE ADVICE
If you want to make an art car, look at your car as a canvas. Nothing more.
AUTOMOTIVE RESOURCE
Google Images – www.google.com/google+images+art+cars
FAVORITE BOOK 
Art Cars – Harrod Blank
PARTING ADVICE 
Keep dreaming and then do it.
HOW TO FIND HARROD
Art Car Agency – www.artcaragency.com
Art Car World Museum – www.artcarworld.org
Camera Van – www.cameravan.com
The Houston Art Car Parade – www.thehoustonartcarparade.com
Burning Man – www.burningman.org
HELPING CARS YEAH GROW
You can help promote Cars Yeah interviews. Please go to iTunes and post a comment. Every little bit helps and we will greatly appreciate your support.