Podcast: Play in new window | Download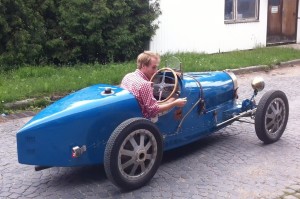 Artist Jan Rambousek uses digital-imagery to create wonderful artwork. As a founder of Playground studio he has collaborated on a number of assignments and digital solutions for clients. He also is behind VirtualRig Studio, the motion-blur simulation software that has become a popular among all the big names in automotive industry. Jan's latest collaboration – The Silver Arrows Project – is a combination of staged photography, advanced 3D graphics and state-of-the-art computer imagery that brought back to life the legendary racing cars of 1934 through 1939.
SHOW SPONSOR
NOCO Genius Boost Jump Start  – Here.
"If everything seems under control you're not going fast enough." – Mario Andretti
At 17 years old Jan decided to leave school and pursue his dreams in a career. Facing his parents with this decision was a great challenge. Listen to what happened and how it changed his life.
AH-HA MOMENTS
After creating a unique and special motion-blur software for the automotive industry, he couldn't find a market for it to work in. So, Jan made a pivot, reprogrammed the software, and began selling it to his competitors.
FIRST SPECIAL CAR
A 997 Porsche Cabriolet
BEST AUTOMOTIVE ADVICE
Don't drive too fast.
GREAT RESOURCES
Petrolicious – www.petrolicious.com
BOOK SUGGESTION
I Know You've Got Soul – Jeremy Clarkson
PARTING ADVICE
Nothing is good enough.
HOW TO FIND JAN
Silver Arrows Project –  www.silverarrowsproject.com
Virtual Rig Studio – www.virtualrig-studio.com
HELPING CARS YEAH GROW
You can help promote Cars Yeah interviews. Please go to iTunes and post a comment. Every little bit helps and we will greatly appreciate your support.