Podcast: Play in new window | Download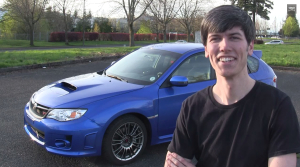 Jason Fenske produces and creates the YouTube channel Engineering Explained. His video lessons focus on automotive engineering topics and provide the viewer with a clear and concise description of how things work. His passion to teach people through his video had generated a loyal following. Want to know how a V12 engine works, or how the clutches and torque converters operate? Jason's your guy. Engineering Explained is a wonderful go-to site for quick, clear, and thoughtful explanations of everything automotive. Jason graduated with a mechanical engineering degree from North Carolina State University.
SHOW SPONSOR
NOCO Genius Boost Jump Start  – Here.
"If you can't explain something simply you don't fully understand it."
After college Jason had a difficult time finding a job and learned that the traditional methods of job searching weren't working. Listen to find out how this lead him down a path toward entrepreneurship and his website Engineering Explained.
AH-HA MOMENTS
After trying some different approaches to YouTube shows Jason thought about utilizing his passion for learning how things work and creating a place where people could go to learn what he could teach them about automotive mechanics.
FIRST SPECIAL CAR
A 1999 Acura Integra GS
BEST AUTOMOTIVE ADVICE
Just do it when it comes to working on your car.
AUTOMOTIVE RESOURCE
Risk Takers – Documentary on Elon Musk
FAVORITE BOOK
Engineering Fundamentals of the Internal Combustion Engine – Willard W. Pulkrabek
PARTING ADVICE 
Minimize risk while trying to pursue your passion.
HOW TO FIND JASON
Engineering Explained – www.youtube.com/channel
Facebook – www.facebook.com/EngineeringExplained
HELPING CARS YEAH GROW
You can help promote Cars Yeah interviews. Please go to iTunes and post a comment. Every little bit helps and we will greatly appreciate your support.