Podcast: Play in new window | Download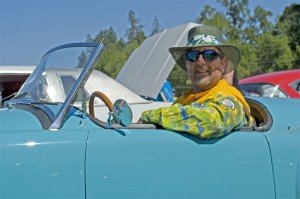 Jeff Zurschmeide is an automotive journalist and author from Portland, Oregon. He's the Editor in Chief of Maximum Drive magazine, automotive reviewer for The Oregonian newspaper, and he's the author of 8 books on a wide variety of automotive topics – and he's working on his 9th book.
SPONSORS
Want to sponsor the Cars Yeah podcast? Contact us today.
"Deserve victory! " – Winston Churchill
Listen to how writing his first book became a much bigger challenge than Jeff expected and how he tackled the project which lead to 8 more books.
AH-HA MOMENTS
After starting a club publication and then being offered a job writing for an automotive magazine, Jeff realized he could have a career within his passion for automobiles.
FIRST SPECIAL AUTOMOBILE
1959 MGA
BEST AUTOMOTIVE ADVICE 
Never buy a car expecting to make money on the deal.
RESOURCE 
Wikipedia – www.wikipedia.org
BOOKS 
The Imperfectionists – Tom Rachmann
PARTING ADVICE 
If you want to pursue your passion for cars, writing is a great way to proceed.
HOW TO FIND JEFF
Facebook –  www.facebook.com/maximumdrivemagazine
Amazon – High Performance Subaru Builder's Guide
Amazon – Portland Speedway
Amazon – Portland International Raceway
HELPING CARS YEAH GROW
You can help promote Cars Yeah interviews. Please go to iTunes and post a comment. Every little bit helps and we will greatly appreciate your support.