Podcast: Play in new window | Download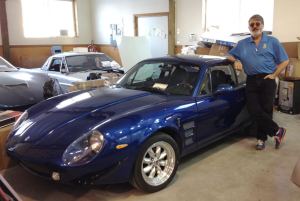 Jim Simpson is the owner of Contemporary Classics of WA in Clinton, Washington and Simpson Design. At his companies he oversees the restoration of interesting, older European cars and special design projects. Jim's history with cars goes back to 1975 when he started his business and along the way he's been involved in numerous custom autmotive ventures. He designed and built the Blue Ray 3 for the Nardi Company in Italy. That vehicle was displayed at Concorso Italiano in 1992. He's worked with Kevin Hines and Chuck Beck where he built the Miami Roadster. He continues to design and build unique automobiles and projects while restoring European vehicles.
SHOW SPONSOR
NOCO Genius Boost Jump Start  – Here.
"He who rests rots." – Arthur Fiedler
While an apprentice Jim was asked to replace the exhaust system on a Jaguar. After three attempts he finally got it right. This lesson has stuck with him his entire life. Always do things the right way. Listen to a more recent challenge he came upon while building custom cars for a client overseas.
AH-HA MOMENTS
Mazda sent Jim a brand new Mazda Miata and said "Your a designer, build something." That build ended up on display at the Concorso Italiano and was very well received. This lead to more builds.
FIRST SPECIAL CAR
1969 Saab Sonett
BEST AUTOMOTIVE ADVICE
Simpson's First Rule – If that car you really want gets a way from you remember there is always another deal to be had.
AUTOMOTIVE RESOURCE
Forgotten Fiberglass – www.forgottenfiberglass.com   NOTE: The founder of this site, Geoff Hacker, has been a guest on Cars Yeah. You can find him here.
FAVORITE BOOK
Fitzgerald and Merritt Ferrari Book – Out of print so try eBay.
PARTING ADVICE 
Cars are meant to be enjoyed. People that buy cars and don't drive them are missing out on something very special and important.
HOW TO FIND JIM
Contemporary Classics of Washington – www.contemporaryclassicsofwa.com
Simpson Design – www.simpsondesign.net
HELPING CARS YEAH GROW
You can help promote Cars Yeah interviews. Please go to iTunes and post a comment. Every little bit helps and we will greatly appreciate your support.