Podcast: Play in new window | Download

Listen To Joe by Clicking on the Red Arrow Above or Visit iTunes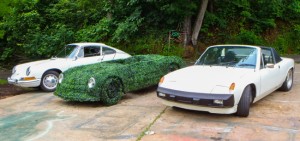 Joe Kyte is owner of Topiary Joe. He is a very unique, topiary sculpture artist who creates living garden sculptures.  Now I know what you're thinking. Isn't this Cars Yeah, Inspiring Automotive Enthusiasts? Entrepreneurs who have figured out how to make a living around their passion for cars? Yes, you're in the right place. Joe, is an automotive enthusiast through and through, who in many cases has figured out how to combine his passion for cars in to the creative living sculptures he creates for clients around the world. If you want a full size Ferrari F1, a vintage Bugatti or a Porsche in your garden, Joe will make it happen. Want a Ferrari prancing stallion or the hood ornament off a Jaguar? Joe can do that too.  Of course if you like full size elephants, dinosaurs, or anything your imagination can come up with, Joe is your guy. He's figured out how to combine his passion for cars, gardens, sculpture and more in to a thriving entrepreneurial business that makes people smile.
SPONSORS
Want to sponsor the Cars Yeah podcast? Contact us today.
SUCCESS QUOTE 

"If I'm going to do something I better do it well."
BUSINESS CHALLENGE 

When you're building a living sculpture for a client, it's sometimes difficult for them to realize that the topiary has to be given time to grow. Overcoming a clients impatience is something Joe has learned to work with on many projects. Then there was a project in Dubai where Joe created a full size Ferrari Formula One car to introduce Ferrari World. You have to listen to this story!
AH-HA MOMENT 
When in 1992, Joe realized nobody but the artists at Disney were creating topiary sculptures so he ran with the idea and created his career.
FIRST SPECIAL AUTOMOBILE
A  1962 Lincoln Four Door Convertible, the consulate car from Belize.
BEST AUTOMOTIVE ADVICE
Put gas in the tank. Listen to find out why this simple advice has so much meaning to Joe.
FAVORITE RESOURCE
Topiary Joe – www.topiaryjoe.com
Click & Clack on Car Talk –  www.cartalk.com
FAVORITE BOOK
First A Dream – Jim Clayton
 PARTING ADVICE
If you don't do it, who's going to?
HOW TO FIND JOE
Topiary Joe – www.topiaryjoe.com
Facebook – www.facebook.com/topiaryjoe
HELPING CARS YEAH GROW
You can help promote Cars Yeah interviews. Please go to iTunes and post a comment. Every little bit helps and we will greatly appreciate your support.