Podcast: Play in new window | Download

Listen To Jonathan by Clicking on the Red Arrow Above or Visit iTunes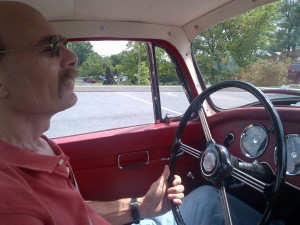 Jonathan A. Stein is the executive editor and associate publisher of Hagerty Classic Cars, although he may be best known for his 12-year stint atAutomobile Quarterly.  A full-time automobile historian and editor for over 26 years, Jonathan has been involved with the old car hobby for 40 years. He is the author of three books, he has edited or published another dozen and has written hundreds of articles for major magazines in the United States and England.  He has consulted for museums, restoration shops, auction houses and for Smithsonian Journeys, for which he is a frequent study leader for European tours to automotive points of interest.  A long-time denizen of the concours circuit, he is a judge at Pebble Beach, Amelia Island, Concours of America and many other major automotive events.  On his own time, Jonathan has been spotted driving the MGA coupe he's owned for 37 years.
Want to sponsor the Cars Yeah podcast? Contact us today.
SUCCESS QUOTE 

"A rule is not a rule unless there is an exception." – Miss Kramer (Jonathan's 7th grade teacher)
PERSONAL CHALLENGE IN BUSINESS

With a printer's deadline looming and a story that fell through it looked like Jonathan was going to miss his first print date. Find out how he pulled a rabbit out of his hat.
AUTOMOTIVE CAREER AH-HA MOMENT 

When Jonathan started his job at Automobile Quarterly, the very first day, he realized he had discovered his dream job.
FIRST CAR

1959 MGA Coupe
CURRENT BUSINESS

Jonathan is the executive editor and associate publisher of Hagerty Classic Cars Magazine.
BEST AUTOMOTIVE ADVICE
Buy the best car you can possibly afford. If you can't afford it…wait.
FAVORITE RESOURCE

Eclectic Motorworks run by Carl Heideman.
BOOKS

Jaguar Sports Racing and Works Competition by Andrew Whyte
IF JONATHAN COULD HAVE ONLY ONE COLLECTOR CAR…
A 1956 Talbot Lago America Coupe with a V8-BMW engine.
PARTING ADVICE
When playing with cars, don't cut corners. Save until you can do it right.
HOW TO FIND JONATHAN
You can find Jonathan at Hagerty Classic Cars Magazine.