Podcast: Play in new window | Download


Listen To Juan Carlos by Clicking on the Red Arrow Above or Visit iTunes or Stitcher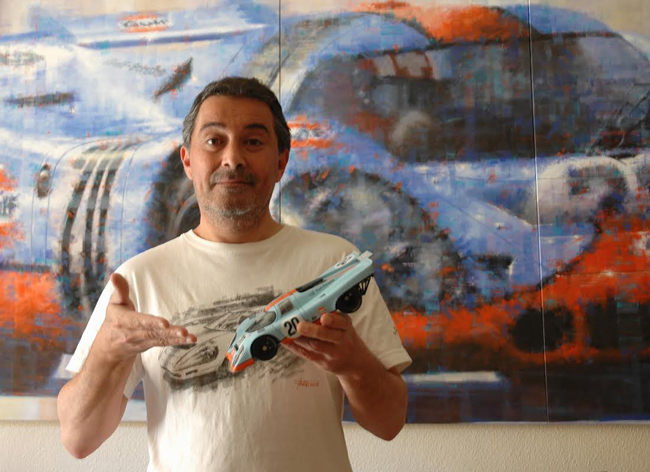 Juan Carlos Ferrigno is an artist who lives in Barcelona, Spain and has painted for over 25 years. When he was ten years old his father took him to his first F1 race in Buenos Aires and it was there that he was bit by the racing bug. He attended The Fine Art School and worked as an illustrator in Argentina and then he moved to Spain where he continued to draw and paint. He's won the prestigious International Motoring Art competition and he's worked with Planners International Events. His paintings hang in the homes of collectors around the world including racers, rock starts, and large international companies.
SHOW SPONSORS  
NOCO Genius Boost Jump Starter
SUCCESS QUOTE
"Never give up."
CAREER CHALLENGE
Deciding to leave his home country in Argentina and move to Spain.
AH-HA MOMENTS
Learning that there was an art competition in England and entering. And winning!
FIRST SPECIAL CAR 
Juan Carlos has never learned to drive.
BEST AUTOMOTIVE ADVICE
When you create a painting of a car, try and paint it even more beautiful than it really is.
GREAT AUTOMOTIVE RESOURCE 
Ferrigno-Art.com – www.ferrigno-art.com
FAVORITE BOOK
Men Women and Engines  – Alfred Muhlbauer (out of print)
PARTING ADVICE 
The secret is to work a lot and to work with passion.
HOW TO FIND JUAN CARLOS
Ferrigno-Art.com – www.ferrigno-art.com
HELPING CARS YEAH GROW
You can help promote Cars Yeah interviews. Please go to iTunes and post a comment.
Every little bit helps and we will greatly appreciate your support.