Podcast: Play in new window | Download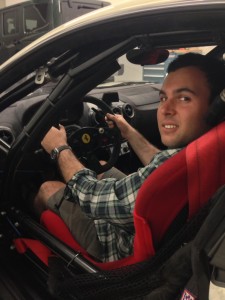 Keith Oster is a lifelong car guy, whose first word was "truck".  He's one of the fortunate few who is proud to be making his hobby a business by helping to build Vintage Wheels.com a classic car search engine. At Vintage Wheels, Keith focuses on growing the business by attracting users and developing product improvements. Although Porsches are his first love, Keith is truly a fan of anything with a motor, from VW Syncros to Buick Grand Nationals. He travels to car events around the country, from Pikes Peak to Pebble Beach, and enjoys meeting auto enthusiasts everywhere he goes.
SHOW SPONSOR
NOCO Genius Boost Jump Start  – Here.
"You make your own luck."
Keith created the beginning of an on-line site that helped people find their collector car. Then he found another company that was doing the same thing. Listen to learn how Keith pivoted this find from a frustration in to a win.
AH-HA MOMENTS
After Max was asked by a friend to find a collector car he realized there was no one website that could help find the right car. Listen to how this lead to his involvement with VintageWheels.com.
FIRST SPECIAL CAR
His father's Porsche 911 that he let Keith drive all the time.
BEST AUTOMOTIVE ADVICE
Car guys are nice.
FAVORITE AUTOMOTIVE RESOURCE
Bring a Trailer – www.bringatrailer.com
BOOK SUGGESTION
In To The Wild – John Krakauer
PARTING ADVICE 
Stick to what you know and love and take a risk based on that.
HOW TO FIND KEITH
Vintage Wheels –  www.vintagewheels.com
Vintage Wheels Blog – www.vintagewheels.com/blog
Instagram – www.instagram.com/Vintage_Wheels
Facebook – www.facebook.com/VintageWheelsDotCom
Twitter – www.twitter.com/vintagewheels
HELPING CARS YEAH GROW
You can help promote Cars Yeah interviews. Please go to iTunes and post a comment. Every little bit helps and we will greatly appreciate your support.