Podcast: Play in new window | Download

Listen To Kenji by Clicking on the Red Arrow Above or Visit iTunes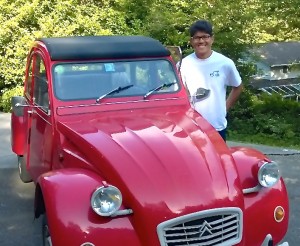 Kenji is native Japanese and at the age of 19 walked in to a cardealership in Japan with only 2 thousand dollars in his pocket, asking what might be available in his price range. In the far back corner of the lot was an old red CX Citroen. It was love at first sight. After meeting the woman who would become his wife and moving to the United States, in 2002, Kenji and his wife Marion acquired FPS, French Parts Service. A company that was founded in 1986 by Ben Morse. Today after 28 years FPS continues to provide Citroen collectors with a complete inventory of parts for Citroen 2CVs via their website at
FPS West.com
. Listen to Kenji talk about his love with these unique French automobiles.
SPONSORS
Want to sponsor the Cars Yeah podcast? Contact us today.
SUCCESS QUOTE

"The 2CV is not just a car. It is a way of life."  -Kenji Yoshino
BUSINESS CHALLENGE

Kenji and his wife Marion operate FPS West out of there home in the Pacific Northwest. After a fire destroyed their home and their business many friends from the Citroen Club rallied and helped them rise from the ashes to start again.
ENTREPRENEURIAL AH-HA MOMENT X2

After losing his job, Kenji was offered the opportunity to purchase a Citroen parts business from a friend. He took the leap and has never looked back.
FIRST CAR

A tired, red Citroen CX found in the back lot of a used car dealership in Japan.
CURRENT BUSINESS

FPS West.com offering Citroen 2CV parts to customers all over the world.
FAVORITE THING ABOUT CARS
Kenji loves working in the garage on his Citroens and always has some project going on.
 FAVORITE BOOK
Citroen 2CV by John Reynolds
FAVORITE RESOURCE

The Citroen car seller www.2cvsareus.com
PARTING ADVICE
The connections with the people behind the cars is the most important thing in life.
HOW TO CONTACT KENJI
FPS West at 2CV Source.com
HELPING CARS YEAH GET A BUMP START
You can help promote Cars Yeah interviews. Please go to iTunes and post a comment. Every little bit helps and we will greatly appreciate your support.