Podcast: Play in new window | Download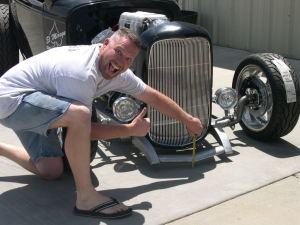 Kenny Welch is the owner of Kenny's Rod Shop in Boise Idaho. He's been playing with cars and building hot rods for over 25 years. His focus is on cars from the 30s, 40s and 50s and as long as he and his talented crew are cutting and modifying vehicles they are happy. Their complete fabrication shop can handle chassis, body, paint and complete assembly projects. Kenny really loves designing and building wild and crazy suspensions and he's owned over 300 VW bugs and cut up more of them than he can remember. His shop takes great pride in taking the time to build the right car for his customer that can be enjoyed, driven, used. Kenny's true passion is the art of the hot rod.
SHOW SPONSOR
NOCO Genius Boost Jump Start  – Here.
"Good hot rods aren't cheap and cheap hot rods aren't good."
When Kenny was young, trying to break in to the world of hot rodders that were mostly much older than him was a challenge. Listen to learn how he broke that barrier and became admired as a hot rod builder.
AH-HA MOMENT
There have been a hand full of cars Kenny has built that provided him with notoriety and helped expand his business.
FIRST SPECIAL CAR
A 1960 VW Bug
BEST AUTOMOTIVE ADVICE
Go with what feels right.
FAVORITE RESOURCE
Google
FAVORITE BOOK
The magazine Street Rod Builder – Unfortunately it is no longer in print so try eBay.
PARTING ADVICE 
Follow your dreams. Don't get cheap on your dreams.
HOW TO FIND KENNY
Kenny's Rod Shop –  www.kennysrodshop.com
Telephone – 208-855
Facebook  – www.facebook.com
Team KRS Racing – www.facebook.com/Team-KRS-Racing
HELPING CARS YEAH GROW
You can help promote Cars Yeah interviews. Please go to iTunes and post a comment. Every little bit helps and we will greatly appreciate your support.