Podcast: Play in new window | Download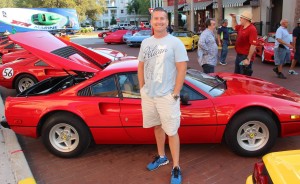 Kevin Davis is a self-described serial entrepreneur living in Montana where he manages five business ventures from web development to vacation homes. A car guy from an early age, Kevin has always enjoyed meeting other automotive enthusiasts and loves the car hobby. Never one to sit still, he started detailing cars and created his latest product, the Detailer's Helper. It's a lightweight, paint friendly tool belt designed for professionals and the home enthusiast who love to take care of their favorite rides. Think of a tool belt for the car care crowd. He's with us today just back from the SEMA show where he spent some time sharing his new creation with the automotive market.
SHOW SPONSOR
NOCO Genius Boost Jump Start  – Here.
"Don't get so busy making a living that you forget to make a life."
In an earlier career Kevin found himself in a situation where he was not growing his business while he was running his business. Listen and find out how he pivoted, several time, to improve and find success.
AH-HA MOMENT
When Kevin started a automobile detailing business he discovered a need for having his cleaning product right there at hand. He designed and made a tool-belt style holder for his products and the Detailer's Helper was created.
FIRST SPECIAL CAR
A 1967 Chevelle
BEST AUTOMOTIVE ADVICE
Life is too short to drive a minivan.
FAVORITE RESOURCES
Factory Five Racing – www.factoryfive.com
FAVORITE BOOK
The Four Hour Work Week – Timothy Ferriss
PARTING ADVICE 
Live your life and do business with the end goal of serving others.
HOW TO FIND KEVIN
Detailer's Helper –  www.detailershelper.com
Facebook – www.facebook.com/detailershelper
Your Exceptional Life – www.yourexceptionallife
Corvina Cove – www.corvinacove.com
HELPING CARS YEAH GROW
You can help promote Cars Yeah interviews. Please go to iTunes and post a comment. Every little bit helps and we will greatly appreciate your support.