Podcast: Play in new window | Download


Listen To Kyle by Clicking on the Red Arrow Above or Visit iTunes or Stitcher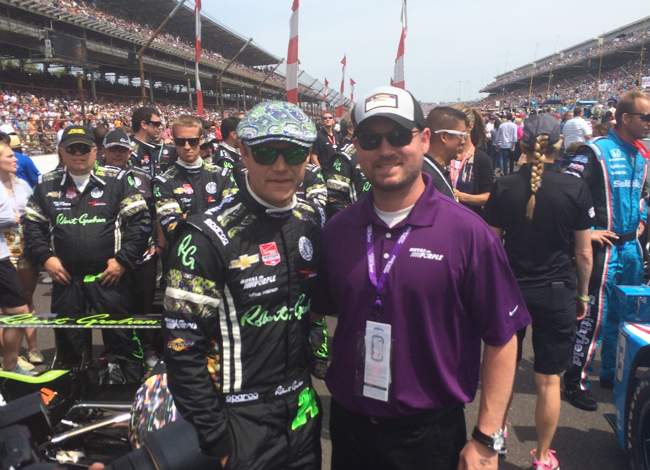 Kyle Neal is the Marketing Manager of Partnerships and Events for Royal Purple, the world's leading lubricant company. He currently spearheads all planning activities from concept to execution for automotive and sponsored racing events. He designs and builds display vehicles, trailer programs, and booths to promote product awareness and customer interaction. Kyle also creates Cause Marketing for Royal Purple's sponsored youth programs. He was an integral part in the Royal Purple Las Vegas Bowl, the Red Bull Global Rallycross partnership, and their Indianapolis 500 sponsorship with driver Townsend Bell. That's Kyle above right with driver Townsend Bell at Indy.
SHOW SPONSORS  
NOCO Genius Boost Jump Starter
SUCCESS QUOTE
"Life happens, wear a helmet."
CAREER CHALLENGE
Going in for what he thought was an easy sale that turned out to be a 36 month effort to whoo over a new client.
AH-HA MOMENTS
Coming up with the concept of a truck and trailer devoted to event marketing.
FIRST SPECIAL CAR 
A 2003 Dodge Ram Pickup
BEST AUTOMOTIVE ADVICE
Change your oil before the winter time.
GREAT AUTOMOTIVE RESOURCES 
Automotive Forums
FAVORITE BOOK
Hammer – Armand Hammer
PARTING ADVICE 
Take care of your car and love your family.
HOW TO FIND KYLE
Royal Purple – www.royalpurpleconsumer.com
Facebook – www.facebook.com/RoyalPurpleFans
Twitter – www.twitter.com/Royal_Purple
HELPING CARS YEAH GROW
You can help promote Cars Yeah interviews. Please go to iTunes and post a comment.
Every little bit helps and we will greatly appreciate your support.