Podcast: Play in new window | Download

Listen To McKeel by Clicking on the Red Arrow Above or Visit iTunes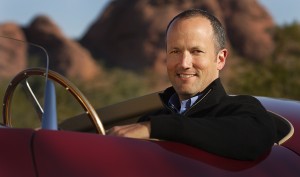 McKeel Hagerty is President and CEO of Hagerty Insurance Agency a premier classic car and vintage boat insurance company.  They protect over 700,000 vehicles, 10,000 boats and 25,000 motorcycles.  Hagerty Insurance gives back by donating 10% of their net revenue to programs and organizations devoted to preserving the hobby. McKeel is a hands-on leader who truly cares about cars, collectors and his employees.  Cars and wooden boats have always been a part of his life. At 13 he and his father restored a rusty 1967 Porsche 911S which he still owns today.  A leader in his industry and a true enthusiast of the hobby McKeel is a car guy through and through.
SPONSORS
Want to reach focused automotive enthusiasts on the Cars Yeah podcast? Contact us today.
"The bottleneck is always at the top of the bottle." – Tom Peters
PERSONAL CHALLENGE IN BUSINESS
After 10 years of focusing on automotive auctions as a key element in acquiring customers find out what revelation McKeel discovered to change his focus and improve his business.
AUTOMOTIVE CAREER AH-HA MOMENT 
When McKeel changed the answer to "What industry are you in?" he freed himself to realize an entire new vision for his company. Doing well must coincide with doing good. Learn how this changed Hagerty.
A 1967 Porsche 911S that he restored at the age of 13 with his father.
BEST AUTOMOTIVE ADVICE
Don't lift in the corner when you're driving a 911.
IF McKEEL COULD HAVE ONLY ONE COLLECTOR CAR
The Mercedes Benz Gullwing SLR, number 722, that Stirling Moss drove in the Mille Miglia
PARTING ADVICE
You can do it alone.
You pay now, you pay later but either way you're gonna pay.
HOW TO FIND McKEEL