Podcast: Play in new window | Download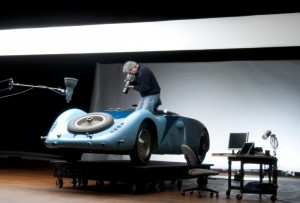 As a young boy, Michael Furman first picked up a camera to photograph a 1963 Corvette Split Window Coupe, and thus began a life-long love affair with cars and cameras. Throughout his forty-year professional career as a photographer, Michael has had the pleasure to work with the world's most significant cars and collectors.  In 2003 Michael's efforts turned from commercial projects for manufacturers to editorial with his first two books, Motorcars of the Classic Era and Automobiles of the Chrome Age, 1946-1960.  These photographic essays are unique to the publishing world in that they celebrate the beauty and history of the world's most iconic cars in studio imagery.  Many book projects have followed and Michael felt the need to control the content so he started his own publishing company Coachbuilt Press. This changed his professional life and opened a new world of adventure. Since then he's published many outstanding automotive books including three new books this year.  Michael's immersion in the collector car world is evidenced by his presence at many of the major concours events around the world as a featured artist, author, judge and sponsor.
SPONSORS
Want to sponsor the Cars Yeah podcast? Contact us today.
"Don't look down. Keep looking up. Persevere."
On one of his first shooting assignments with a major car manufacturer the shoot was very challenging. Listen to learn what happened when Michael threatened to quick and how standing up for himself provided him with a very good lesson about business.
Early in his career Michael was told by a more seasoned photographer,  "You need to know what you do and why you do it."  Listen and learn how this advice helped Michael improve in many ways.
A 1957 Oldsmobile Station Wagon
If you can't get that car. There will be another one.
Motorsports Marketing Resources – www.motorsportsmarketingresources.com
Mullin Automotive Museum – www.mullinautomotivemuseum.com
Simeone Automotive Museum – www.simeonemuseum.org
FAVORITE BOOKS
My 1001 Cars – Gabriel Voisin
Porsche Unexpected – Randy Leffingwell, Cameron Ingram, and Michael Furman Photographer
PARTING ADVICE 
Have fun with what you're doing.
HOW TO FIND MICHAEL
You will find Michael at www.michaelfurman.com
Coachbuilt Press – www.coachbuiltpress.com
Facebook – www.facebook.com/VintageMotorSportMagazine
HELPING CARS YEAH GROW
You can help promote Cars Yeah interviews. Please go to iTunes and post a comment. Every little bit helps and we will greatly appreciate your support.