Podcast: Play in new window | Download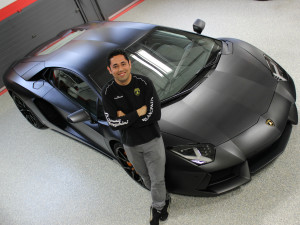 Mike Cardenas is the Master Detailer for SweetCars,  in addition to being a nationally recognized automotive detailer. He is recognized as one of the top 20 detailers in North America by Dupont Registry Magazine. He is also a contributing writer for various forums, blogs, and detailing websites. Mike was the first student of famed detailer Todd Cooperider, and the Esoteric Elite Detailer Academy. He's a certified trainer and conducts workshops and clinics for both the public and professionals alike and he assists car care manufacturers with development and testing for new products. Mike also serves as a technical car care consultant for clubs including Ferrari, Lamborghini and Porsche.
SHOW SPONSOR
NOCO Genius Boost Jump Start  – Here.
Mikes four "P"s for a career: Passion. Patience. Performance. Products.
"Strive for perfection in everything. Take the best that exists and make it better. If it doesn't exist create it. Accept nothing nearly right or good enough." – Sir Henry Royce
When Mike started ramping up his detailing business he had decided to stay loyal to one brand and supplier. He quickly learned there was a much better path to follow. Listen to how this realization expanded his abilities to help customer's vehicles look their best.
AH-HA MOMENTS
When SweetCars decided to bring Mike in and head up their high-end detailing department their first car was a Ferrari. When the customer got tears in his eyes after seeing his car when it was completed, Mike knew they were on to something.
FIRST SPECIAL CAR
A1984 Volkswagen Jetta GLI
BEST AUTOMOTIVE ADVICE
"Know when to follow your heart when it comes to purchasing a car."
FAVORITE BOOK
How to Win Friends and Influence People – Dale Carnegie
AUTOMOTIVE RESOURCE
Detailed Image Blog – www.detailedimage.com/blog
PARTING ADVICE 
Follow your passions.
HOW TO FIND MIKE
SweetCars – www.sweetcars.com
Blog – www.blog.sweetcars.com
HELPING CARS YEAH GROW
You can help promote Cars Yeah interviews. Please go to iTunes and post a comment. Every little bit helps and we will greatly appreciate your support.