Podcast: Play in new window | Download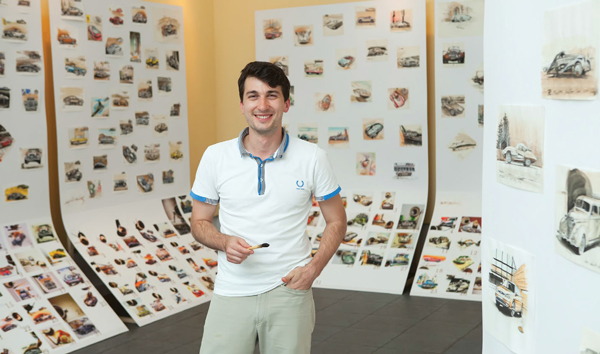 Mitu Adrian studied architecture in Bucharest, Romania. While there he participated in a workshop that was developed by Renault through the Renault Central Europe Studio. Mitu started drawing cars and developed a wonderful Facebook page titled Aquarelief where he posts his beautiful sketches and watercolor imagery of automobiles. His morning sketches started in June of 2013 where he would post daily works of automotive art over to his morning coffee. His beautiful sketches are enhanced using watercolor infused with coffee. Today Mitu is pursuing his dream of being an automobile designer and continues to inspire his Facebook followers while they enjoy their morning coffee along with his delightful caffein infused illustrations.
SPONSORS
Want to sponsor the Cars Yeah podcast? Contact us today.
"Mind your own business." – Mitu's architecture professor
"Designé, designé, designé." – Stefan Baral
"Don't be seduced by a regular job while pursuing your career." – Sly Stallone
"Great cars are art." – Chris Bangle
"Failing is not the worst. Not putting your best out there is the worst and it is a sin." – Dustin Hoffman
"You've got to have a lot of passion and love for what you're doing and you've got to do it over a sustained period of time." – Steve Jobs
Mitu shares a very intense and serious challenge in his life. Listen to how a desperate moment was turned in to success which lead to a more focused life path.
AH-HA MOMENTS
On the 20th of June 2013 when Mitu drew his first automobile sketch and used coffee to color the piece. Listen to how this lead to an exhibition of all his work and more.
RESOURCES
Petrolicious – www.petrolicious.com
The Tiriac Collection – www.tiriaccollection.ro/en
BOOK SUGGESTION
The Agony and the Ecstasy– Irving Stone
PARTING ADVICE 
The dream could be reality and the nightmare could be just a dream. That depends on you.
Search for heroes.
HOW TO FIND MITU
Aquarelief –  www.facebook.com/aqarelieff
A Video About His Art – www.observator.tv
HELPING CARS YEAH GROW
You can help promote Cars Yeah interviews. Please go to iTunes and post a comment. Every little bit helps and we will greatly appreciate your support.