Podcast: Play in new window | Download


Listen To Myron by Clicking on the Red Arrow Above or Visit iTunes or Stitcher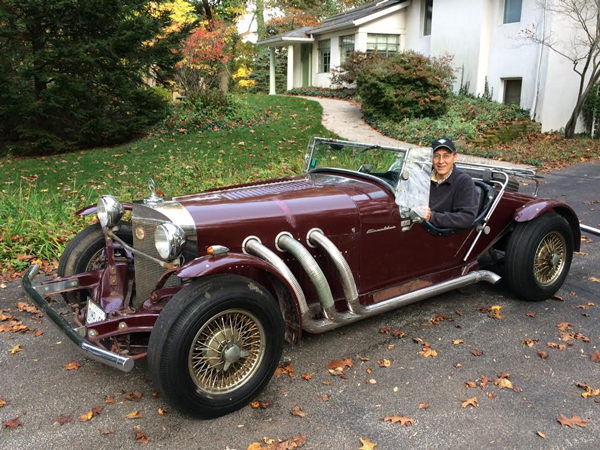 Myron Vernis has one of the most eccentric car collections in the world. At Jalopnik he's known as Junkman and at his garage in Ohio he's simply an automotive enthusiast with a taste for the unique, the odd, and the rare. He ran the Glenmore Gathering of Significant Automobiles for 18 years in Canton Ohio. He claims to have a bad case of automotive ADD. Just a few of his cars include: the XR-1, an Olson Eagle, the one off Hoffman X-8, an Aileron Spyder, a Paxton, and the Ghia 450SS. Myron has over 75 cars and he's always looking for that next unique ride that few have seen or heard of.
SHOW SPONSORS  
CarpeGear.com The Little Red Racing Car
NOCO Genius Boost Jump Starter
SUCCESS QUOTE
"Don't judge a book by it's cover."
CAREER CHALLENGE
Myron  ran The Glenmoor Gathering, a concours event for many years and it was always a great challenge to pull the event off.
AH-HA MOMENTS
Discovering that collecting really unique and sometimes unloved cars can open an entire new world in the collector car hobby.
FIRST SPECIAL CAR
A Hoffman X8
BEST AUTOMOTIVE ADVICE
Never buy a car you can't pay cash for.
AUTOMOTIVE RESOURCES
Jalopnik – www.jalopnik.com
Bring a Trailer – www.bringatrailer.com
Lyn Smith – www.Smith&Company
FAVORITE BOOK
The Reckoning -David Halberstam
PARTING ADVICE 
Buy what you love.
HOW TO FIND MYRON
Mobilia Garage – www.mobiliagarage.com
You can help promote Cars Yeah interviews. Please go to iTunes and post a comment.
Every little bit helps and we will greatly appreciate your support.