Podcast: Play in new window | Download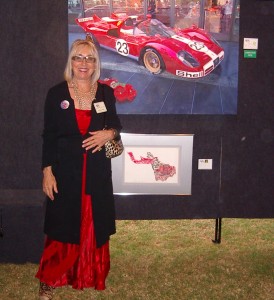 Nicola Wood is a graduate of the Royal College of Art in London. A Fulbright scholarship brought her to Parsons School of Design in New York instigating a one woman exhibition there. A move to California and its automotive culture influenced a series of automotive themed oil paintings that became her passion. Nicola has won the Peter Helck award twice along with many other awards and accolades. Her paintings hang in private collections around the world and have been shown in galleries across America and on the lawn at the Pebble Beach Concours d'Elegance.  She is a member of the Automotive Fine Arts Society and she's a magic realist painter who sees the unusual in the usual and her passion for automobiles comes through in her work.
SPONSOR
NOCO Genius Boost Jump Start  – Here.
"Vision is the art of seeing what is invisible to others." – Jonathan Swift
"Your life is what you notice."
CAREER CHALLENGE
When a new CEO for Aston Martin moved in he wanted a change to a painting Nicola had done in the past.
AH-HA MOMENTS
After attending a car show she meeting another painter of cars. This meeting lead to a presentation of her work at Road & Track magazine and her car painting career was launched.
FIRST SPECIAL AUTOMOBILE
1960 Porsche 356 Super 90
BEST AUTOMOTIVE ADVICE 
Nicola learned she should start painting a broader range of cars other than just 50s models.
FAVORITE BOOK
Steve Job Biography – Walter Isaacson
PARTING ADVICE
In the end there are only three things that matter. How much you loved. How gently you loved. And how gracefully you let go of things not meant for you. – Buddha
The two most important two days of your life are the day you were born and the day you find out why.
HOW TO FIND NICOLA
Website – www.nicolawood.com
HELPING CARS YEAH GROW
You can help promote Cars Yeah interviews. Please go to iTunes and post a comment. Every little bit helps and we will greatly appreciate your support.