Podcast: Play in new window | Download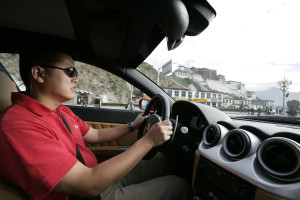 Patrick Hong is a serial entrepreneur, an automotive enthusiast, and the founder and CEO of Prenostik. Prenostik is a public relations and marketing business intelligence, cloud-computing software platform that helps organizations tie consumer response to results. Passionate about any vehicle that goes fast, he is the former Executive Editor for Road & Track magazine and as an automotive writer he's driven and tested numerous vehicles. He's competed in 24-hour driving competitions around the world and flown in jet fighters and on board zero gravity vomit-comet planes. He earned a Bachelor's degree in mechanical engineering and a Master's degree in aerospace engineering and he's always looking for ways to solve problems and he is an advocate and strong believer in entrepreneurial spirit and life-long learning that stimulates critical thinking and innovation.
SHOW SPONSOR
NOCO Genius Boost Jump Start  – Here.
SUCCESS QUOTE
"Anyone who stops learning is old, whether at twenty or eighty. Anyone who keeps learning stays young. The greatest thing in life is to keep your mind young." – Henry Ford
Patrick was hired to be a writer when his background was more in engineering. Listen to find out how he learned to be a great writer by combining his passion for cars with his engineering thought process.
AH-HA MOMENTS
Patrick is especially keen on solving problems. His current start up company, Prenostik, is all about solving problems. Listen to how his combination of engineering and life long passion for learning combined to create this new venture.
FIRST SPECIAL CAR
A 1990 Acura Integra
BEST AUTOMOTIVE ADVICE
Look ahead.
BOOK SUGGESTION 
Freakonomics – Steven D. Levitt
PARTING ADVICE 
Live life to its fullest, keep your foot on the throttle, and learn as much as you can.
HOW TO FIND PATRICK
Prenostik –  www.prenostik.com
HELPING CARS YEAH GROW
You can help promote Cars Yeah interviews. Please go to iTunes and post a comment. Every little bit helps and we will greatly appreciate your support.