Podcast: Play in new window | Download


Listen To Paul by Clicking on the Red Arrow Above or Visit iTunes or Stitcher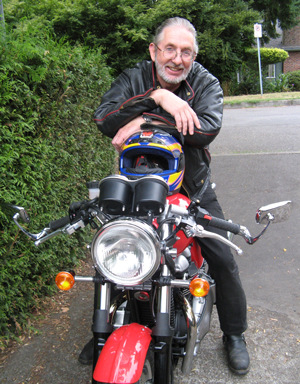 Paul Duchene has been an automotive journalist for 40 years. In that time he has owned about 250 cars, and drove an Isetta three-wheeler daily as a reporter in London in the 1960s. He's raced motorcycles and ran the 1,000 mile Moto-Giro d'Italian on a 1957 Ducati and he ran the 5,000 mile Alcan Winter Rally six times. He has written for the Chicago Tribune, New York Times, Car and Driver, Autoweek, and Roundel, and was the Automotive Editor at The Oregonian and the Portland Tribune, and Executive Editor at Sports Car Market Magazine. These days, Paul writes classic car auction catalogs for RM and Gooding, for the soon-to-be-opened World of Speed Museum and for Hagerty's European website. You can hear Paul at the Laguna Seca and Portland historic races as an announcer.
SHOW SPONSOR  
NOCO Genius Boost Jump Starter
CarpeGear.com The Little Red Racing Car
"He had me on power but I was all over him in the corners."
"The stuff you think you know is the stuff that does you in."
"If your mother tells you she love you, check it out."
"Never write in a language other than your own."
CAREER CHALLENGE
Buy a Citroën DS19 and will it to make sense.
AH-HA MOMENTS
Paul's entire life as a journalist has been continual ah-ha moments. Learning something new is the most exciting, ah-ha life can provide you.
FIRST SPECIAL CAR
An Austin 7
BEST AUTOMOTIVE ADVICE
Never drive a car home from an auction. Never, ever, ever.
AUTOMOTIVE RESOURCE
Knowing the right people.
FAVORITE BOOKS 
The Vintage Motor Car Pocket Book  – Cecil Clutton
Peking to Paris – Luigi Barzini
Books by Kevin Clemens
PARTING ADVICE 
Don't  buy cars to make money. Buy as if tomorrow money is worthless. Are you happy?
HOW TO FIND PAUL
Linkedin – www.linkedin.com/pub/paul-duchene/5/424/411
HELPING CARS YEAH GROW
You can help promote Cars Yeah interviews. Please go to iTunes and post a comment.
Every little bit helps and we will greatly appreciate your support.