Podcast: Play in new window | Download

Listen to Pete by Clicking on the Red Arrow Above or Visit iTunes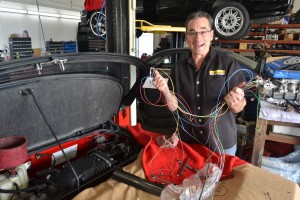 Pete  Bristow, a.k.a. Pistol Pete, owns and operates Bristow's Exclusive Auto Repair in Tacoma Washington.  Along with his talented team they service and care for all sorts of fine automobiles along with preparing and setting up track cars for customers who enjoy club events and days at the track.  Pete has a life long passion for racing and 36 years of experience in working on automobiles with extensive knowledge of how they operate, both on the street, and at the track.  He is involved in community events and local business associations and is a talented and experienced racing coach and driving instructor.  Pete loves all things cars, especially if it means going fast.
SPONSORS
Want to sponsor the Cars Yeah podcast? Contact us today.
SUCCESS QUOTE 

"If you don't have time to do it right the first time. When will you ever have time to do it right the second time?"
BUSINESS CHALLENGE 

After becoming more and more frustrated with the business practices at a dealership he worked at, Pete thought he could do better and started his own business.
AH-HA MOMENT 

When Pete opened his first shop, all of the connections he had made over his past came flooding back to his front door.  They helped him realize he had built up a network of clients and friends who would be there to support him.
FIRST SPECIAL AUTOMOBILE
1962 Ford Falcon Club Wagon… and Pete still owns it.
BEST AUTOMOTIVE ADVICE
Stay insured.
FAVORITE RESOURCES

Six Speed- www.six-speed.com
Rennlist – www.rennlist.com
Autoweek and Automobile magazines
Hemmings Motor News – www.hemmings.com
FAVORITE BOOK

The Art of Racing in the Rain – Garth Stein
PARTING ADVICE
Drive sideways, steer straight. (from his rally racing days)
HOW TO FIND PETE
You will find Pete at  www.bristowsauto.com
HELPING CARS YEAH GET A BUMP START
You can help promote Cars Yeah interviews. Please go to iTunes and post a comment. Every little bit helps and we will greatly appreciate your support.