Podcast: Play in new window | Download

Listen To Pete by Clicking on the Red Arrow Above or Visit iTunes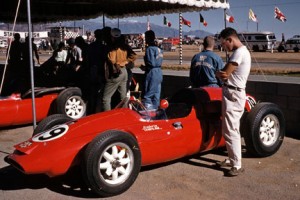 In words and pictures, veteran motorsports journalist Pete Lyons has spent decades covering races all over the world, including classics such as North America's original "unlimited" Can-Am series, Formula 1 Grand Prix from Argentina to Watkins Glen, and sports car enduros at Daytona, Sebring and Le Mans. Assignments have taken him to Mexico's Baja 1000, the Pikes Peak Hill Climb, Kenya's Safari Rally and numerous other events.
Pete is a former editor of RACECAR magazine, and he has contributed to numerous enthusiast publications, including Autosport, AutoWeek, Car and Driver, Road & Track, and many more.  He is currently a columnist and feature writer for Vintage Motorsport magazine and  the author of 12 books published to date, with two more underway, Lyons has won several prestigious honors, including the Motor Press Guild's Dean Bachelor Award (twice) and the International Motor Press Association's Ken Purdy Award. In 2011 he gained the International Automotive Media Award for Lifetime Achievement.
Along with his most recent books, including the upcoming "Riverside International Raceway" photo history, plus his annual calendar and a DVD, the extensive archive of racing photography by Pete and his late father, Ozzie Lyons, can be seen at petelyons.com
SPONSORS
Want to sponsor the Cars Yeah podcast? Contact us today.
SUCCESS QUOTE 

"Less brake, more gas." – Juan Manual Fangio
BUSINESS CHALLENGE 

Pete had wanted to write his first book. Listen to find out what a dinner party guest said to him that motivated Pete to go forward.
AH-HA MOMENT 
After seeing his first photograph published in Autosport magazine Pete still remembers the thrill that gave him. It is a thrill he still has today whenever his work is published.
FIRST SPECIAL AUTOMOBILE
A 1973 Stingray Corvette Coupe
BEST AUTOMOTIVE ADVICE
Glide.  As it relates to driving through a corner at speed.
FAVORITE RESOURCE
Joe Saward – hjoesaward.wordpress.com
FAVORITE BOOKS
Can-Am – Pete Lyons (Pete's first book that is out of print)
Can-Am Cars in Detail: Machines and minds Racing Unrestrained – Pete Lyons
Fast Lines  – Pete Lyons
 PARTING ADVICE
Pete wishes he could go back to all the tracks he's been to and taken more photos and talked to more people.
HOW TO FIND PETE
You will find Pete at www.petelyons.com
Facebook – www.facebook.com/pete.lyons
HELPING CARS YEAH GROW
You can help promote Cars Yeah interviews. Please go to iTunes and post a comment. Every little bit helps and we will greatly appreciate your support.