Podcast: Play in new window | Download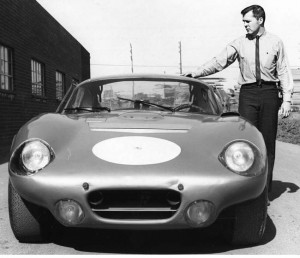 Where do I begin when introducing an iconic legend in the automotive world?  Peter Brock is a designer, a racer, an award-winning author, a speaker, and a photographer.  He was the youngest designer to be hired by General Motors in 1957 and sketched what became the first Corvette Sting Ray.  In 1961 Peter became Carroll Shelby's first employee and designed the iconic Daytona Coupe that won the World Championship in 1965.  There were other cars he designed while with Shelby he worked on the iconic Shelby GT350 Mustang.  His Brock Racing Enterprises, the BRE team with Datsun, is legendary and won title after title.  In 1973 he founded Ultralight Products that became the largest hang gliding company in the world and they won numerous championships and set records in hang gliding.  Today along side his wife Gayle and their talented team, Peter continues to push BRE in to new adventures and products including his unique Aerovault Trailer and the brand new YouTube series – Peter Brock's World.
SPONSORS
Want to sponsor the Cars Yeah podcast? Contact us today.
"All truth passes through three stages. First, it is ridiculed. Second, it is violently opposed. Third, it is accepted as being self-evident." – Arthur Schopenhauer
Listen to an amazing story of how Peter, working with a small group of talented people, created the legendary Daytona Coupe that they took to Europe and beat Ferrari for the World Championship.
AH-HA MOMENTS
Peter came up with an entirely new concept for a car trailer. Listen to learn how he applied some simple logic along with creative design to manufacturer an entirely new idea in trailers, the Aerovault.
FIRST SPECIAL AUTOMOBILE
A chopped and channeled 1946 Ford that won its class at the Oakland Roadster Show.
BEST AUTOMOTIVE ADVICE 
Nobody knows anything. Don't believe anything until you've proven it yourself. – Max Balchowsky
FAVORITE RESOURCES 
If you want to be involved in racing, go to races, donate your time, and be a part of the action.
FAVORITE BOOKS
www.BRE2.net – Brock Racing Enterprises Books
Corvette Sting Ray Genesis of an American Icon – Peter Brock
PARTING ADVICE 
Never lift!
HOW TO FIND PETER
You can find Peter at Brock Racing Enterprises at www.bre2.net
HELPING CARS YEAH GROW
You can help promote Cars Yeah interviews. Please go to iTunes and post a comment. Every little bit helps and we will greatly appreciate your support.