Podcast: Play in new window | Download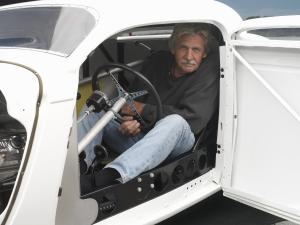 Peter Harholdt is both a museum photographer and a veteran racer. He is a partner with Stance & Speed in the Monograph Series, where they publish automotive books. His clients have included the Smithsonian, the Louvre, MoMA, and the White House. He has raced in IMSA and the SCCA and has had podium finishes in the 24 Hours of Daytona and the Can-Am. He has plans to run at Bonneville some time soon. Among Peter's recent automotive books are: Can-Am Cars in Detail, the Stance & Speed Monograph Series, and The Allure of the Automobile, and The Art of the Hot Rod, both with Ken Gross who has also been a guest here on Cars Yeah.
SHOW SPONSOR
NOCO Genius Boost Jump Start  – Here.
"The fastest drivers are the ones willing to correct the highest number of mistakes." – Bill Scott
When Peter was racing and had a serious heart issue that sidelined him. Listen and learn what he did to quickly get back on the race track.
AH-HA MOMENTS
Peter got in involved in a project that required traveling around the country to photograph automobiles. Listen to how he came up with a traveling studio so the project could happen.
FIRST SPECIAL CAR
Austin Healey 100-4  (then he installed a small block 289 Ford engine in to the car)
BEST AUTOMOTIVE ADVICE
"You should have left it the way it was last week." – Peter's father
FAVORITE BOOK
Flying Catalinas – Andrew Hendrie
AUTOMOTIVE RESOURCE
Ross Bentley Speed Secrets Weekly – www.speedsecretsweekly.com
PARTING ADVICE 
We should quarantine the MBAs and teach them some useful skills.
HOW TO FIND PETER
Peter Harholdt – www.peterharholdt.com
Stance & Speed – www.stanceandspeed.com
The Revs Institute – www.revsinstitute.org/the-collection
HELPING CARS YEAH GROW
You can help promote Cars Yeah interviews. Please go to iTunes and post a comment. Every little bit helps and we will greatly appreciate your support.