Podcast: Play in new window | Download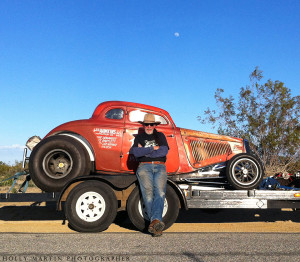 Peter Vincent is an artist, author, and photographer who's been working with the landscape at the Bonneville Salt Flats for over 20 years, combining it with the Sub-Culture of Land Speed Racing and the Pop-Culture of the American Hot Rod. He's a regular on the salt every August for "Speed Week" and never misses this gathering, ever. He's published numerous books on the automobile and his work has been displayed in museums across the country including many permanent collections. His fourth book, The Bonneville Salt Flats, 20 Years of Photography was released in the fall of 2013. Peter's fifth book, The Rolling Bones is due out in the late fall of 2015. His images have been published in many magazine including The Rodder's Journal and American Rodder. His iconic 7 Coupes photograph, taken in 2002, appeared on the cover of Hop Up magazine. One of Peter's photographs hangs in my home.
SHOW SPONSOR
NOCO Genius Boost Jump Start  – Here.
"Find something you have a passion for to do." – Peter's Father
After heading down the path of mechanical engineering Peter switched to architecture. Then one day he picked up a photography magazine and his life changed. Listen to how that one magazine defined the rest of his life's ambitions and career path.
AH-HA MOMENTS
In the middle of college while getting his degree in architecture Peter found photography and he realized that was what he would do the rest of his life.
FIRST SPECIAL CAR
A 1959 Porsche Convertible D
BEST AUTOMOTIVE ADVICE
Buy good parts.
BOOK SUGGESTIONS
The American Hot Rod – Dean Bachelor
Can Am Cars in Detail – Pete Lyons and Peter Harholdt
PARTING ADVICE
Find your passion and do it. And do it now.
HOW TO FIND PETER
Peter Vincent –  www.petervincentphotographer.com
Facebook – www.facebook.com/pages/Peter-Vincent-Photographer
Video of Peter's 15 oz. Coupe – www.youtube.com/watch
HELPING CARS YEAH GROW
You can help promote Cars Yeah interviews. Please go to iTunes and post a comment. Every little bit helps and we will greatly appreciate your support.