Podcast: Play in new window | Download

Listen To Ray by Clicking on the Red Arrow Above or Visit iTunes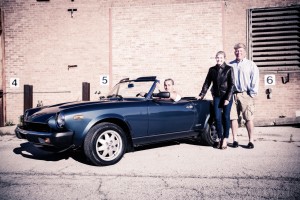 Ray Marchica is the owner of Roadster Salon, a restoration company that focuses on building the finest Fiat Roadsters available.  The company reflects the passion of its founder, Ray's father, John Marchica who was a sports car enthusiast with a fondness for all things Italian.  John's affection for Italian sports cars was passed on to his son Ray, who first sold and restored Fiat, MG and Alfa Romeo sports cars as a hobby while attending college.  Ray began helping his father in the business about ten years ago.  Each year, the number of projects and their scope increased.  Soon, Roadster Salon had grown from a retirement hobby to the largest Fiat based restoration company in North America.  When John took ill in 2010, Ray stepped in to provide support and direction.  Sadly, John passed away in 2011 so Ray and his wife Chris stepped in full time and personally supervise every phase of the restoration process.  Rob Baird, Production Manager, who has been with the company for over 8 years, along with the team at Roadster Salon, are a skilled and talented group of automotive enthusiasts and craftsmen who focus on creating their clients dreams. Their Spiders provide a dose of nostalgia and exclusivity that's impossible to surpass with contemporary sports cars.
SPONSORS
Want to sponsor the Cars Yeah podcast? Contact us today.
SUCCESS QUOTES 

"Success is going from one failure to another without losing enthusiasm." – Winston Churchill (paraphrase)
CAREER CHALLENGE 

After taking over the business when his father passed away, Ray had several challenges to contend with. Listen and learn how he re-invented what was a hobby business in to a success.
AH-HA MOMENT 
Chris had to figure out a way to change how the company was operating and in doing so discovered his ah-ha moment. Listen and learn what that was.
FIRST SPECIAL AUTOMOBILE
A 1976 Lancia Scorpion
BEST AUTOMOTIVE ADVICE
"Buy a vehicle that's already been restored. Don't do it yourself."
FAVORITE RESOURCE
Roadster Salon  – www.roadstersalon.com
FAVORITE PUBLICATIONS
Auto-Italia – Magazine
Sports Car Market – Magazine
Garage Style – Magazine
Hemmings Motor News – Magazine
PARTING ADVICE
Don't be afraid to dream. Don't be afraid to aim high.
HOW TO FIND RAY
You will find Ray at www.roadstersalon.com
Facebook – www.facebook.com/RoadsterSalon
Coming soon – RSDesigno.com (we'll provide a link once the site is live)
HELPING CARS YEAH GROW
You can help promote Cars Yeah interviews. Please go to iTunes and post a comment. Every little bit helps and we will greatly appreciate your support.