Podcast: Play in new window | Download

Listen To Rick by Clicking on the Red Arrow Above or Visit iTunes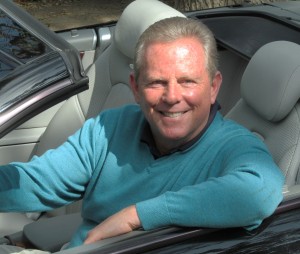 Rick Cole is an internationally recognized collector car expert, auctioneer and appraiser with 44 years of experience in the field. He began his career in collector cars at age 16. Rick has sold approximately 25,000 collector automobiles over time. In 1986, Rick launched the very first classic car auction in Monterey during the Pebble Beach Concours d'Elegance/Historic Race weekend. You could say he brought commerce to the weekend. Early on, Rick earned the title of "Auctioneer to the Stars," having sold hundreds of cars for and to Hollywood "royalty" that include Frank Sinatra, Dean Martin, Steve McQueen, Johnny Carson, Robin Williams and Sylvester Stallone.
SPONSORS
Want to sponsor the Cars Yeah podcast? Contact us today.
SUCCESS QUOTE

"Doing things right."  -Rick Cole
BUSINESS CHALLENGE

During the 1990 recession the bottom fell out of the collector car market. Rich combined forces with other auction companies and weathered the storm to come out even stronger when the economy recovered.
ENTREPRENEURIAL AH-HA MOMENT X2

After launching the very first collector car auction during the iconic Monterey Historic Races and Pebble Beach Concours weekend. Some said he was crazy and now there are over 6 auctions during that  wonderful week in Monterey. Today Rick is having yet another Ah-Ha moment and will debut an entirely new automotive auction experience at Monterey in August 2014. Learn about it at Rick Cole Auctions.  Listen to Rick's ingenious twist to buying collector cars.
FIRST CAR

Rick wanted an MGA but had to settle for a 1966 VW Squareback after mom said "No" to the MG. He soon did a deal with a class mate and traded the MG for a Triumph TR4A IRS. The art of the car trade began for Rick at a young age.
CURRENT BUSINESS

Rick is re-igniting his business and bringing Rick Cole Auctions back to Monterey in August of 2014.
FAVORITE THING ABOUT CARS
The art of the deal is Rick's favorite thing about his passion for cars. No surprise for a man who has sold over 25,000 cars in his lifetime.
FAVORITE RESOURCE

The Ferrari database www.barchetta.cc
The collector car site www.anamera.com
FAVORITE BOOK
Piloti, Che Gente – Enzo Ferrari
PARTING ADVICE
When in Los Angeles take Fountain Avenue. It is the best way to get around!
HOW TO FIND RICK COLE
You can find Rick at Rick Cole Auctions