Podcast: Play in new window | Download


Listen To Jim and Mike by Clicking on the Red Arrow Above or Visit iTunes or Stitcher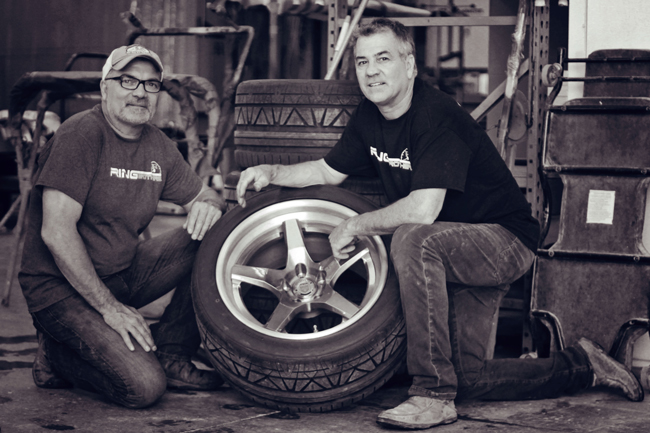 The Ring brothers, Jim and Mike, have owned and operated Classic Auto Body in Spring Green, Wisconsin for more than 20 years. Their collision repair shop gets owner's cars back on the road and it's also a place where some of the most spectacular and creative handcrafted builds in the world emerge from. They also produce a line of billet accessories as well as fiberglass and carbon fiber body panels. Their builds have garnered a General Motors Best Chevrolet of Show award at SEMA and back-to-back Goodguys Street Machine of the year awards.
SHOW SPONSORS  
NOCO Genius Boost Jump Starter
SUCCESS QUOTE
"You don't have to blow out somebody else's candle to make yours shine brighter." – Their Mother
"Bad press is like standing in the rain. A few more drops aren't going to hurt you." – Their Mother
CAREER CHALLENGE
They cut up a 1968 Camaro and did some things with the design nobody had ever seen before. This raised a lot of eyebrows in the hobby and created quite a stir in the hot rod world. Today it's a normal thing to do when designing a custom car.
AH-HA MOMENTS
Getting frustrated with how poorly old car parts worked and that sparked their aftermarket parts business that grew in to a substantial part of their companies sales.
FIRST SPECIAL CAR 
Jim – A 1969 Camaro
Mike – 1969 Pontiac GTO Convertible
BEST AUTOMOTIVE ADVICE
Mike – Do the best you can no matter how small the task is.
Jim – "If you can get over the dog you can get over the tail." – Their Mother
GREAT AUTOMOTIVE RESOURCE 
McMaster Carr – www.mcmaster.com
FAVORITE BOOK
The Men of the Gambier Bay – Edwin Palmer Hoyt
PARTING ADVICE 
Follow your heart. Everything that seems impossible usually isn't.
HOW TO FIND JIM & MIKE
The Ring Brothers – www.ringbrothers.com
Facebook – www.facebook.com/pages/Ringbrothers
HELPING CARS YEAH GROW
You can help promote Cars Yeah interviews. Please go to iTunes and post a comment.
Every little bit helps and we will greatly appreciate your support.